Feature and Giveaway: One Plus One by Jojo Moyers
One single mom. One chaotic family. One quirky stranger.
One irresistible love story from the
New York Times
bestselling author of Me Before You.
"ONE PLUS ONE equals one fine novel….skillfully crafted characters… meld together into
an uncommonly good story about family, trust, and love…hysterically mismatched mélange…
Bravo to Moyes for delivering toothsome characters in a story readers will truly care about.
Is that Hollywood calling?"—Booklist, Starred Review
"Offbeat journey so satisfying…Moyes's irrepressible flaws-and-all characters so memorable."
—Publishers Weekly
"Amazing novel…about trust, dignity, desperation, and, ultimately, love….Moyes…has a remarkable
gift for creating balanced, deep characters who struggle to find their own way. With humor,
and insight, and an amazing ability to see how personal hitting rock bottom can become, she
has written an emotional, rich, and satisfying novel."—Library Journal, Starred Review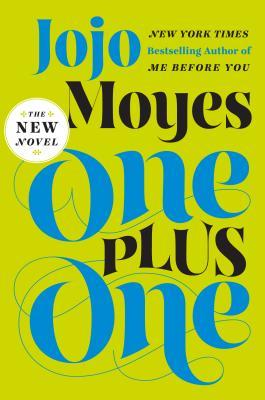 Readers and critics alike fell in love with Jojo Moyes's New York Times-bestselling novel, Me Before You;her latest novel, ONE PLUS ONE (Pamela Dorman Books/Viking; on-sale July 1, 2014; 978-0-525-42658-5; $27.95) is a compelling story of love and family, told with Moyes's trademark sensitivity and humor.
Suppose your life sucks—a lot. Your husband has done a vanishing act, your teenage stepson is being bullied, and your math whiz daughter has a once-in-a-lifetime opportunity that you can't afford to pay for. If you're Jess Thomas, you make it work.
Jess and her family (including their giant, smelly dog Norman) begin their doomed-from-the-start adventure stranded on the side of the road next to an old Rolls Royce—sans license, sans insurance—having just been pulled over by the police for a missing headlight. And the unexpected knight in shining armor who rescues them? Geeky Ed, the obnoxious tech millionaire whose vacation home Jess happens to clean. With big problems of his own, Ed uncharacteristically offers to drive Jess and her dysfunctional brood to the Maths Olympiad and a prize that could change everything for Jess's family. It feels like his first unselfish act in ages…maybe ever.
This unlikely cast of characters is easy to fall for: Nicky, Jess's stepson, wears mascara, doesn't fit in at school, but is incredibly protective of Tanzie, Jess's precocious math prodigy daughter; Jess and Ed are the kind of opposites you love to watch attract; and pungent Norman, the immovable mascot of the back seat, is the best guard dog you'll ever find drooling on your shoulder.
ONE PLUS ONE
is Jojo Moyes at her astounding best. You'll laugh, you'll weep, and when you turn the last page, you'll want to start all over again.
JOJO MOYES is the New York Times bestselling author of The Girl You Left Behind, Me Before You, andThe Last Letter from Your Lover. She is also the author of the e-only novella Honeymoon in Paris as well asSilver Bay (Penguin / on-sale: August 26) and The Ship of Brides (Penguin / on-sale: October 28). Moyes also writes for a variety of newspapers and magazines. She lives with her husband and their three children on a farm in Essex, England.
a Rafflecopter giveaway