Feature: Angela Panther Series by Carolyn Ridder Aspenson
Unbreakable Bonds; An Angela Panther Novel
A Mother's Work is Never Done...
Carolyn Aspenson's (Unfinished Business) latest picks up the story of Angela Panther's dealings with her dead mom, Fran and the duo's dynamic is as delightful as ever!
Angela had her psychic gift under control until a traumatic loss shut it down. And now that Angela's daughter is in too deep with a boy and her best friend Mel's husband is cheating, she needs her mom more than ever.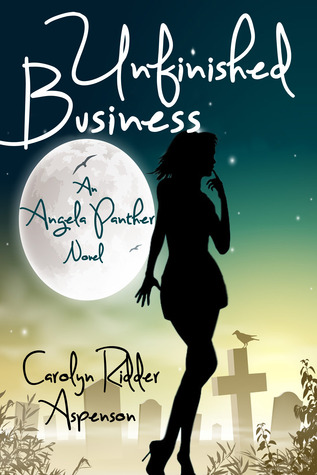 Unfinished Business; An Angela Panther Novel
Stay at home mom Angela Panther is living the good life. Happily married with two kids, a house in the suburbs and, a fantabulous best friend, she's got it all.
But hours after Angela's mother dies, her ghost pops in for a visit, leaving the door to the other side wide open. Suddenly Angela's life is jam-packed with ghosts - ghosts that need her help.
Now Angela must find a way to balance the needs of the living along with the unfinished business of the dead, all while keeping her mother's ghost in line. Hilarious
and bittersweet, Unfinished Business tackles the emotional ups and downs of the relationships between mothers and daughters and the desperate desire for that one last chance to tell someone we've lost how we feel.
http://www.amazon.com/s/ref=nb_sb_noss_1?url=search-alias%3Daps&field-keywords=carolyn+ridder+aspenson
Carolyn Ridder Aspenson
is the Amazon and Barnes & Noble best selling author of Unfinished Business; An Angela Panther Novel, Unbreakable Bonds; An Angela Panther Novel, the novella Santa's Gift, a Cumming Christmas Novella and The Quick Start Weight Loss Program.
An avid fitness buff, Carolyn writes a monthly health and fitness column for Northside Woman Magazine as well as regular weekly news articles for various Atlanta area media outlets including the Forsyth Herald, the Milton Herald, the Revue and News, and the Johns Creek Herald. Her works have also been published in Countyline Magazine and various Internet publications.
A native of Indiana, for over eighteen years Carolyn called the northwest Chicago suburbs home. She now resides in the Atlanta area with her husband, three kids, two dogs and cat.