Review: The Beautiful American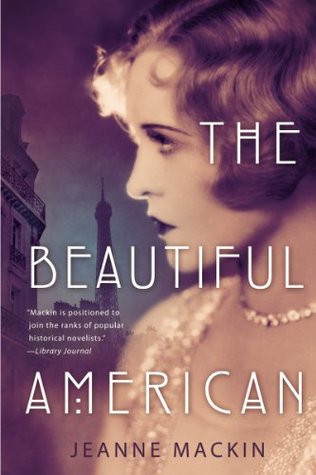 Title: The Beautiful American
Author: Jeanne MacKin
Publisher: NAL
Published: June 6, 2014
Kindle, ARC
ASIN B00G3L1DLA
Genre: Historical Fiction
Source: NetGalley
Book Summary:

From Paris in the 1920s to London after the Blitz, two women find that a secret from their past reverberates through years of joy and sorrow....
As recovery from World War II begins, expat American Nora Tours travels from her home in southern France to London in search of her missing sixteen-year-old daughter. There, she unexpectedly meets up with an old acquaintance, famous model-turned-photographer Lee Miller. Neither has emerged from the war unscathed. Nora is racked with the fear that her efforts to survive under the Vichy regime may have cost her daughter's life. Lee suffers from what she witnessed as a war correspondent photographing the liberation of the Nazi concentration camps.

Nora and Lee knew each other in the heady days of late 1920s Paris, when Nora was giddy with love for her childhood sweetheart, Lee became the celebrated mistress of the artist Man Ray, and Lee's magnetic beauty drew them all into the glamorous lives of famous artists and their wealthy patrons. But Lee fails to realize that her friendship with Nora is even older, that it goes back to their days as children in Poughkeepsie, New York, when a devastating trauma marked Lee forever. Will Nora's reunion with Lee give them a chance to forgive past betrayals…and break years of silence to forge a meaningful connection as women who have shared the best and the worst that life can offer?
My Thoughts:
Jeanne MacKin has written several historical fiction books. In her latest book, The Beautiful American, She takes us back to the 1920's. The story surrounds two friends--Lee and Nora--who are complete opposites of one another. To say they're friends is almost too generous. I believe the correct term nowadays would be frenemies. Lee is beautiful but flighty. She has a cruel streak and is self-centered. Nora is down to earth. She's completely taken in by Lee's charisma. Almost obsessed with her.
The two girls have a long, complicated history together. MacKin takes us all the way back to the beginning when the girls first met, to their tumultuous time in Paris. Let's take a moment to appreciate the setting--Paris in the 1920's! Could you imagine how fantastic that would be? Back to the story. Lee and Nora run into each other in Paris. Nora is with her boyfriend who is trying, and failing, to become a photographer. Lee is living it up with her famous lover Man Ray. Being friends with Lee definitely has its benefits. They run into many people who could potentially be contacts for her boyfriend.
Throughout this book I had mixed feelings about the characters. At times I wondered why Nora didn't punch Lee in the face, or at least throw her drink in her face. It wasn't until I finished this book and could see the whole picture that I finally understood the characters. Both characters had suffered greatly at different times in their lives. Perhaps holding on to each other was the only way to survive it. I was glad that Lee had some redemption in the end.
MacKin is a good storyteller. She had me engaged in the story. Even when I didn't like or understand the characters I still wanted to read more. The Beautiful American is a thought-provoking novel. It's a great story about love, loss, friendship, and forgiveness. Add this book to your TBR.
My Rating: