Review: The Tropic of Serpents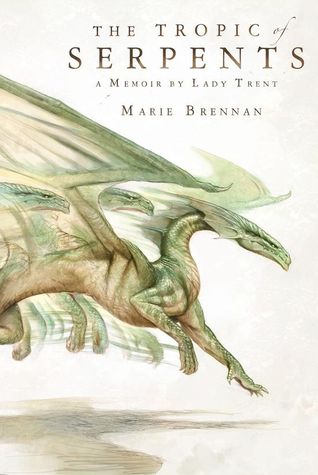 Title: The Tropic of Serpents (A Memoir of Lady Trent #2)
Author: Marie Brennan
Publisher: Tor Books
Published: March 4, 2014
Paperback, ARC, 320 pages
ISBN: 978-0-7653-3197-7
Genre: Fantasy
Source: Publisher
Goodreads Summary:

Three years after her fateful journeys through the forbidding mountains of Vystrana, Mrs. Camherst defies family and convention to embark on an expedition to the war-torn continent of Eriga, home of such exotic draconian species as the grass-dwelling snakes of the savannah, arboreal tree snakes, and, most elusive of all, the legendary swamp-wyrms of the tropics.
The expedition is not an easy one. Accompanied by both an old associate and a runaway heiress, Isabella must brave oppressive heat, merciless fevers, palace intrigues, gossip, and other hazards in order to satisfy her boundless fascination with all things draconian, even if it means venturing deep into the forbidden jungle known as the Green Hell . . . where her courage, resourcefulness, and scientific curiosity will be tested as never before.
My thoughts:
The Tropic of Serpents is the second book in The Memoirs of Lady Trent. If you've not read the first book, A Natural History of Dragons, then I strongly urge you to. Though it's not entirely necessary that you do so, it will make you understand the story better.
Lady Trent narrates her adventures as she embarks to study dragons. In this book she's in more of a tropical climate, which is completely opposite of her first expedition. On this journey, she brings her young protege, Natalie, who defies her parents wishes by accompanying Isabella. Isabella and her colleagues live with a native tribe to not only learn about their culture, but to study the legendary swamp-wyrms. However danger is everywhere, and they're not immune to it.
One of the things I love most about this series, is that Marie Brennan writes in such a way that sometimes I forget this book is fiction. Lady Trent is so realistic I feel as though I'm reading the memories of an actual person. I love that Isabella is such a complex character with complex emotions. She learns a lot about herself on these adventures. I also love that she defies conventions. Isabella has a lust for learning, and she's not afraid to pursue it! She surrounds herself with people that encourage her--though not always.
I am absolutely in love with this series. I only wish that dragons and Lady Trent were real. I can't wait for the next book to come out. I know that whatever adventures lie ahead will be worth waiting for!
Other books in the series:
A Natural History of Dragons
The Voyage of the Basilisk (coming in 2015)