Audio Book Review: The Course of True Love (And First Dates)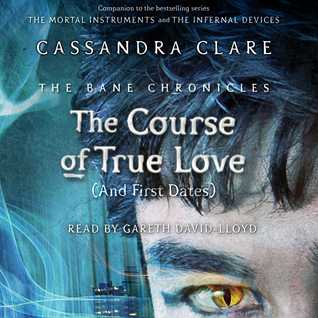 Title: The Course of True Love (And First Dates)
Author: Cassandra Clare
Narator: Gareth David Lloyd
Publisher: Simon and Schuster Audio
Published: March 18, 2014
Length: 1 hour, 4 minutes
Genre: Fantasy
Source: Publisher
Goodreads Summary:
Magnus Bane and Alec Lightwood might fall in love—but first they have a first date.

When Magnus Bane, warlock, meets Alec Lightwood, Shadowhunter, sparks fly. And what happens on their first date lights a flame...
My thoughts on the audio:
Gareth David Lloyd has stared in many television shows, such as Torchwood and Holby City. Now he lends his talent to The Bane Chronicles: The Course of True Love (And First Dates). Lloyd has a great voice for reading audio books. His voice is soothing and made this book a pleasure to listen to.
My thoughts on the story:
The premise of this story is that Magnus and Alec go on a date--a first date. They are both awkward and second-guessing their choices. It's hilarious. And of course any date with Magnus would not be a normal date, so naturally mayhem is just around the corner.
This is one of the shorter stories from The Bane Chronicles, but I think it was the perfect length. I enjoyed it thoroughly. It will remind you of any awkward date you ever had.