Review: First Impressions by Charlie Lovett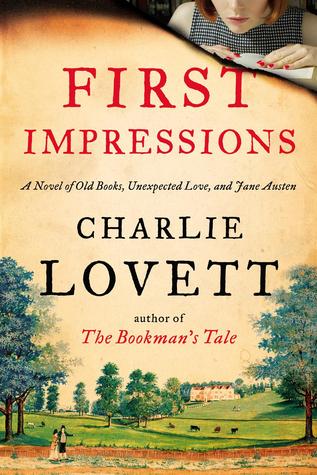 Title: First Impressions: A Novel of Old Books, Unexpected Love, and Jane Austen
Author: Charlie Lovett
Publisher: Viking
Published: October 16, 2014
Hardcover, 320 pages
ISBN: 978-0-525-42724-7
Genre: Historical Fiction/Fiction
Source: Publisher
Goodreads Summary:
Book lover and Austen enthusiast Sophie Collingwood has recently taken a job at an antiquarian bookshop in London when two different customers request a copy of the same obscure book: the second edition of Little Book of Allegories by Richard Mansfield. Their queries draw Sophie into a mystery that will cast doubt on the true authorship of Pride and Prejudice—and ultimately threaten Sophie's life.

In a dual narrative that alternates between Sophie's quest to uncover the truth—while choosing between two suitors—and a young Jane Austen's touching friendship with the aging cleric Richard Mansfield, Lovett weaves a romantic, suspenseful, and utterly compelling novel about love in all its forms and the joys of a life lived in books.
My Thoughts:
Charles Lovett had me at the mention of Jane Austen. Of course the fact that I really liked his previous book, The Bookman's Tale, helped as well. For the most part, I liked this book a lot, not as much as The Bookman's Tale, but still a great deal. Though it did make me cringe once or twice. But before I get to that let's talk about the book as a whole for a second.
Lovett has a way of intertwining the past with the present that's fascinating. He also knows how to engage his readers with a good mystery involving well-loved authors such as William Shakespeare and, now, Jane Austen. This book switches from past to present introducing you to new characters. Let's start with the past: Jane Austen forms a friendship with Richard Mansfield. (Does that name ring a bell?) To her surprise and delight they form a close friendship, and Richard becomes her sounding board.
Fast forward to the present day. We meet Sophie Collingwood--a bibliophile. She's someone that I think most readers could relate to. Though she's kinda an oddball in her family; the only person who understands her love for books is her uncle. A couple of things happen to set this story in motion. First, Sophie's uncle dies. Second, she moves to London and gets a job at a local bookshop. Third, she gets a request to find an obscure book by two different people back to back. And one of the customers becomes a bit hostile and threatens Sophie if she doesn't find the book.
So what do these two story lines have in common? Well, I'm not going to tell you because it would ruin the book for you. Half the fun is connecting the dots! Anyway, Lovett does a spectacular job weaving it together.
Now to the parts that made me cringe. I didn't like either of Sophie's love interests. One was a little stalkerish and the other was entirely too charming. So charming that you know he was up to something. And even though I like Sophie, I thought she was too smart of a girl to throw her common sense out the window for sex. But she wouldn't be the first girl to do that. Lastly, I felt the ending was a bit rushed. After the climax of the story everything was rushed and wrapped up in a few pages.
For the most part, I did like this book. For better or worse it held my attention to the very end. I enjoy Lovett's writing style and I would be interested in reading more books by him.
*If you're interested in reading this book for a book club, Viking has a book club kit just for you!
My Rating:
I would give this book 3 1/2 willies, so I'm rounding it to 4