Review: Gracelin O'Malley by Ann Moore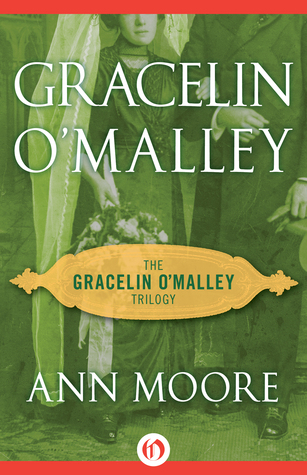 Title: Gracelin O'Malley (#1)
Author: Ann Moore
Publisher: Open Road Media Romance
Published: September 30, 2014
Ebook, ARC
ISBN13: 978145327293
Genre: Historical Fiction
Source: NetGalley
Goodreads Summary:
Gracelin's father, Patrick, named her for the light of the sea that shone in her eyes. But joy and laughter leave the O'Malley clan when Gracelin is six-and-a-half and tragedy befalls the family. Less than a decade later, Gracelin must put her romantic dreams aside and marry a local landowner, the son of an English lord, to save her loved ones from financial ruin. Although she is a dutiful wife to capricious Bram Donnelly, Gracelin takes dangerous risks. With political violence sweeping through Ireland and the potato blight destroying lives, she secretly sides with the Young Irelanders, among them her brilliant brother, Sean, and the rebel leader Morgan McDonagh.

Set against the rise of the Irish rebellion, with a cast of unforgettable characters led by the indomitable eponymous heroine, Gracelin O'Malley weaves a spellbinding story of courage, hope, and passion.
My Thoughts:
I don't know how to describe this book. It was heartbreakingly sad, but also completely riveting, I couldn't put it down. Gracelin O'Malley is a woman who is a survivor. After losing her mother when she was just a child, Gracelin becomes the caretaker of the O'Malley's modest home. When she's old enough to marry, she's married to a wealthy landowner. Reluctant at first, she knows this marriage will help her family in a way that nothing else could.
But this isn't a fairy tale. It's a nightmare. Her husband is a cruel man and Grace suffers abuse under his hand. However, Grace is determined to help her family at any cost.
Grecelin O'Malley takes place in the 1800's in Ireland before, during, and after The Great Potato Famine. Moore doesn't gloss over the details of the devastating effect this had on the country. Your heart will break for those who suffer. Your anger will rise at the injustices laid at the feet of this helpless nation. But you will also be encouraged by their will to survive. The courage that the people faced to overthrow tyranny. And the passion for their native land.
Garcelin O'Malley is the first book in the trilogy. I was at the edge of my seat for most of the novel. I was completely captivated by the beauty and tragedy of this story. I would recommend this book to anyone who loves historical fiction novels. I am certainly going to continue with this series. How could I not? Gracelin's story is not over and I won't be able to rest until I know how it ends. The next book in this series is Leaving Ireland, and I can't wait to read it!
My Rating: