Review: Texts From Jane Eyre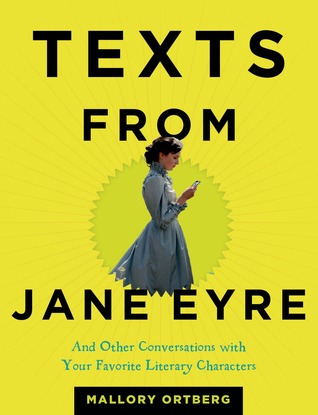 Title: Texts From Jane Eyre And Other Conversations with Your Favorite Literary Characters
Author: Mallory Ortberg
Publisher: Henry Holt and Company
Published: November 4, 2014
Hardcover, 240 pages
ISBN: 978-1-62779-183-0
Genre: Humor
Source: Publisher
Goodreads Summary:
Hilariously imagined text conversations—the passive aggressive, the clever, and the strange—from classic and modern literary figures, from Scarlett O'Hara to Jessica Wakefield.

Mallory Ortberg, the co-creator of the cult-favorite website The Toast, presents this whimsical collection of hysterical text conversations from your favorite literary characters. Everyone knows that if Scarlett O'Hara had an unlimited text-and-data plan, she'd constantly try to tempt Ashley away from Melanie with suggestive messages. If Mr. Rochester could text Jane Eyre, his ardent missives would obviously be in all-caps. And Daisy Buchanan would not only text while driving, she'd text you to pick her up after she totaled her car. Based on the popular web-feature, Texts from Jane Eyre is a witty, irreverent mashup that brings the characters from your favorite books into the twenty-first century.
My Thoughts:
Mallory Ortberg writes for The Toast, on online website, where she writes a feature called "Texts From." Basically it's a hilarious feature about authors, poets, writers, and characters from all the above and what they would probably text if they lived during the age of cell phones. This is probably the funniest book of 2014.
This is the kind of book where you read silently to yourself while laughing out loud. Then someone asks about what you're reading, so you decided to read out loud to said person and they laugh. Others overheard and join in. Soon your solitude of reading turns into an event. But you don't mind because humor like this can't be contained withing the binding of a book.
Texts from Miss Havisham:
Sarah, darling!
Got your note
oh lovely
couldn't possibly make it over for the christening
as I'm simply swamped at the moment
(you may recall I was left at the altar
and have spent the intervening years reeling from the betrayal)
yes I remember
Wish terribly I could make it
but you know how it is
being jilted
Well
we'll set out a piece of cake for you just in case
Please don't worry about me
I'm surrounded by the ruins of an aching, hopeless love that's slowly congealing into poison
so I'm keeping busy
much love to the baby
thank you
if it's a boy I hope you drown it
Pip
Pip what are you doing right now
I'm at work
what's up
did you know that my name would have been Mrs. Compeyson
if I'd married my fiancé Mr. Compeyson
really
but I never did marry him
right
because as you recall
I was abandoned on my wedding day
by my fiancé
(Mr. Compeyson)
and have never never never recovered
but I'm just thrilled to hear that you're doing so well
just Havisham will do for now
unless he comes back
is there anything in particular you need from me right now?
all men are dogs Pip
okay
write that down
I will
really write it down though
are you writing it down?
yes
I think you're just saying you're writing it down
no I wrote it down
Estella what are you doing tonight
do you want to come over and look at wedding photos
I don't think I can
that's okay
I never had wedding photos anyway
because I never got to have a wedding
I don't know if I ever told you that
I never want to see another save the date evite again
oh my godddd
Has she been texting you too?
YES
or like
I think yes
because I keep getting pictures of wedding dresses from a blocked number
*Text taken from the-toast.net. Read more at http://the-toast.net/2013/08/28/texts-from-miss-havisham/#4rUk96b1pzLXUM8x.99
This is a book that bibliophiles will get a kick out of. Everyone should add this to their bookshelf!