Review: The Vault by Emily McKay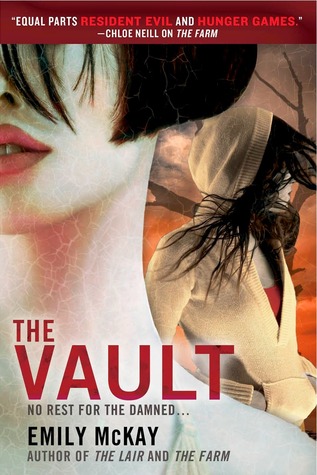 Title: The Vault (The Farm #3)
Author: Emily McKay
Publisher: Berkley Trade
Published: November 6, 2014
Ebook, ARC
ISBN13: 9780425275887
Genre: Young Adult, Dystopia
Source: Netgalley
Goodreads Summary:
In a world where vampires rule and teenaged humans are quarantined as a food source, there is only one choice—resist or die. But fighting the vampires comes at a terrible cost to twin sisters Mel and Lily and their best friend Carter . . .

With Lily exposed to the vampire virus and lying in a coma, it's up to Mel and Carter to search for the cure. Time is not on their side. With every passing heartbeat, Mel is becoming more and more purely vampire.

Desperate, Carter and Mel decide to split up. Carter will recruit human rebels from the Farm in San Angelo to infiltrate the guarded kingdom of the vampire Sabrina and steal the cure. Mel will go back to her mentor, her friend, her betrayer, Sebastian, who is the only one who can access an underground vault that may house the secret to the cure.

That is, if he's still alive after she staked him to the ground. Now her worst enemy may be their best hope for curing Lily—and saving the human race.
Spoiler Alert: This review contains spoilers for the first two books.
My Thoughts:
The Farm blew me away. The Lair had me on the edge of my seat and ended with a big cliffhanger. Now it all comes down to The Vault. At the end of the Lair we learn that Lily has been infected by the tick virus. We learn that Lily and Mel's father is alive and he's been working behind the scenes with vampires. We also learn there may be a cure for the very thing that is destroying humanity.
The Vault
is a fast-paced thrill ride.
The clock is ticking in this book as Carter is in a race to track down the cure to save Lily before she turns. Mel is dealing with her new vampire nature. And the people on the trust-worthy list are dwindling down to by the minute.
T
his is one of the most exciting series I've read in a long time. From the first book I was completely engaged in the story and invested in the characters. And I stayed that way until the very end. This is a series I would definitely recommend to people. If you haven't read it, then you're missing out!