And here's some news about Jeanine Frost . . .
In anticipation of Frost's latest book, BOUND BY FLAMES, HALFWAY TO THE GRAVE
(
Night Huntress
#1) and
ONCE BURNED
(
Night Prince
#1) are both on sale in e-book for $1.99 for a limited time! Experience Cat and Bones and Vlad and Leila's first meetings all over again!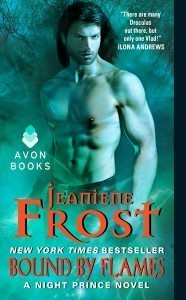 About BOUND BY FLAMES
Leila's years on the carnie circuit were certainly an education. What she didn't learn: how to be a vampire, or how to be married to the most famous vampire of them all. Adjusting to both has Leila teetering on a knife edge between passion and peril, and now the real danger is about to begin...
Vlad must battle with a centuries-old enemy whose reach stretches across continents and whose strength equals his own. It isn't like Vlad to feel fear, but he does...for Leila, because his enemy knows she is Vlad's greatest weakness. As friend and foe alike align against him-and his protectiveness drives Leila away-Vlad's love for his new bride could be the very thing that dooms them both...
About Jeaniene Frost
Jeaniene Frost is the internationally bestselling author of the award-winning Night Huntress series, the Night Prince series and the Night Huntress World novels. To date, foreign rights for her novels have sold to nineteen different countries. She lives in North Carolina with her husband Matthew, who long ago accepted that she rarely cooks and always sleeps in on the weekends. Aside from writing, Jeaniene enjoys reading, poetry, watching movies with her husband, exploring old cemeteries, spelunking and traveling – by car. Airplanes, children, and cookbooks frighten her.
Jeaniene's got two events for
BOUND BY FLAMES,
one at Malaprops on 1/28 at 7 p.m. (55 Haywood St., Asheville, NC 28801) and she is a Featured Author at KissCon Sarasota on 1/31! (Find details here
http://avonromance.hc.com/kisscon/
).