Aoleon The Martian Girl - The Luminess of Mars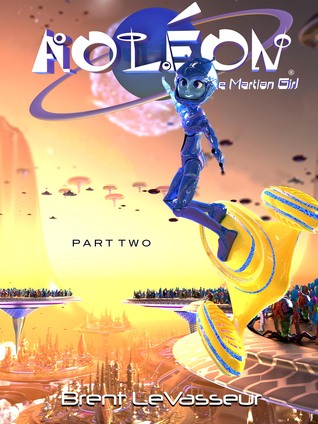 Title: Aoleon The Martian Girl - The Luminess of Mars
Author: Brent LeVasseur
Publisher: Aolean Press
Published: February 23, 2015
Ebook
ASIN B00S70U8NE
Source: Publisher
Goodreads Summary:
Aoléon and Gilbert receive a special mission from PAX, a wanted criminal and leader of the Martian resistance movement to investigate the Luminon of Mars, who he suspects is planning an invasion of Earth to steal its milk cows. Gilbert has an encounter with the Luminess (the mate of the Luminon) and discovers something strange about her during a procession, and the duo are chased by the Royal Paladin Guard.

At Aoléon's home, Gilbert meets Aoléon's family, her sister Una, mother Phobos and father Deimos as well as her overzealous pet Zoot. He is also introduced to Bizwat, a covert operator and Procyon Commando, who uses his Saturn Pizza delivery job as a cover.

Gilbert then gets to visit the Martian Space Academy (Aoléon's school) where he encounters Aoléon's nemesis, Charm Lepton and her friend Quarkina, as well as receiving a history lesson on the Martian people by Plutarch Xenocrates. After class, Gilbert and Aoléon get to train in zero-G and Gilbert is treated to a Psi-ball match between Martian Space Academy and Martian Science Academy
My Thoughts:
The fun and adventure continues in part two of Aoleon the Martian Girl. Part two picks up where we left Aoleon and Gilbert in part one. They have been visited by Knox-Om-Pax, a dissident, a rebel, a spiritual prophet, and tasked with investigating the Lumion, the Martian leaders. But Aoleon has her regular life to attend to so this book is devoted mostly to learning about her life as a student, daughter, and friend. We see that she suffers from typical teen angst with pressure in school, sports, and teen rivalries.
LeVasseur continues the excellent world building that he started in part one by giving the reader a wider glimpse into the Martian Magalopolis. The descriptions that he gives are aided by the illustrations. The illustrations are a lot of fun and and add whimsy and color to the flow of the book. The relationship between Aoleon and Gilbert is blooming and they have a good chemistry together.
I have thoroughly enjoyed the first two parts to Aoleon and am eagerly awaiting more form this author. For the middle-schooler sci-fi fan this is a must read.
My Rating: