I didn't love it, but I didn't hate it either.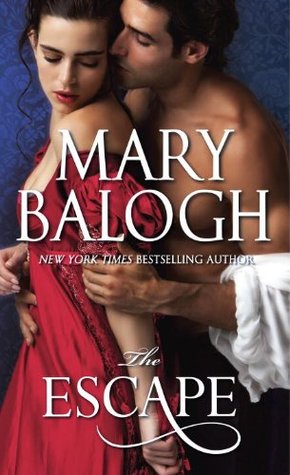 Title: The Escape (The Survivors' Club #3)
Author: Mary Balogh
Publisher: Dell
Published: July 1, 2014
Paperback, 394 pages
ISBN: 9780345536068
Genre: Historical Fiction
Source: Bought
Goodreads Summary:
After surviving the Napoleonic Wars, Sir Benedict Harper is struggling to move on, his body and spirit in need of a healing touch. Never does Ben imagine that hope will come in the form of a beautiful woman who has seen her own share of suffering. After the lingering death of her husband, Samantha McKay is at the mercy of her oppressive in-laws—until she plots an escape to distant Wales to claim a house she has inherited. Being a gentleman, Ben insists that he escort her on the fateful journey.

Ben wants Samantha as much as she wants him, but he is cautious. What can a wounded soul offer any woman? Samantha is ready to go where fate takes her, to leave behind polite society and even propriety in her desire for this handsome, honorable soldier. But dare she offer her bruised heart as well as her body? The answers to both their questions may be found in an unlikely place: in each other's arms.
My Thoughts:
Mary Balogh has been on my list of historical romance authors who I want to read for a while. In fact this book has been sitting on my shelf for the longest time, begging me to read it. But for reasons, I didn't get to read it until recently. And I wasn't overly impressed. I wanted to love it, but it did fall short for me.
Ben and Samantha had good chemistry, but it was the story line that just didn't grab me. I don't really know exactly what didn't work for me. All I know is that I didn't have an overwhelming desire to pick this book up day after day. However, I did manage to get through it, but in the end I was 'meh' about it. I didn't love it, but I didn't hate it either.
The Escape is the third in The Survivors' Club series. One of the things I love about authors like Mary Balogh is you can pick up in the middle of a series and not feel like you're missing the whole picture. I won't give up on this author, though. She's got a huge following and many of her books have quite a bit of five-star ratings. I think maybe I should have started with another one of her books. So this question is for the Mary Balogh fans out there: Which book is your favorite?