A Discovery of Witches Re-read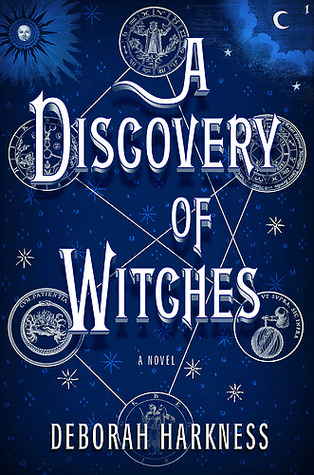 A richly inventive novel about a centuries-old vampire, a spellbound witch, and the mysterious manuscript that draws them together.

Deep in the stacks of Oxford's Bodleian Library, young scholar Diana Bishop unwittingly calls up a bewitched alchemical manuscript in the course of her research. Descended from an old and distinguished line of witches, Diana wants nothing to do with sorcery; so after a furtive glance and a few notes, she banishes the book to the stacks. But her discovery sets a fantastical underworld stirring, and a horde of daemons, witches, and vampires soon descends upon the library. Diana has stumbled upon a coveted treasure lost for centuries-and she is the only creature who can break its spell.



Debut novelist Deborah Harkness has crafted a mesmerizing and addictive read, equal parts history and magic, romance and suspense. Diana is a bold heroine who meets her equal in vampire geneticist Matthew Clairmont, and gradually warms up to him as their alliance deepens into an intimacy that violates age-old taboos. This smart, sophisticated story harks back to the novels of Anne Rice, but it is as contemporary and sensual as the Twilight series-with an extra serving of historical realism.
You can read my first review from Octover 1, 2012 here. Has it really been three years? I was lucky to obtain a finished copy of each book of the All Souls Trilogy from Penguin earlier this month in anticipation and celebration of The Book of Life being released in paperback. And since I'm such a big fan of the series I couldn't wait to re-read it.
I loved re-reading my initial thoughts on A Discovery of Witches. It's one of the many reasons why I blog. Because sometimes I forget certain details of why I loved or didn't love a particular book. Also it's hard for me to believe there was a time that I didn't fall madly in love with Diana and Matthew.
I love re-reading novels that I've really enjoyed. It's not often that I get to do so, and I wish I could do it more often. One of the thrilling parts of re-reading a book is that not only do you get to experience it all again, but new things stand out as well. Being in Mathew and Diana's world is great. I still love everything about this novel. My only problem was that I kept wanting to skip ahead to my absolute favorite parts, but I persevered and read every page. Which was no hardship. I also found myself wanting to neglect my daily tasks (i.e. work, housework, cooking) to read this book. It's still addicting the second time around.
Also I do want to mention the audio book is great too. It's narrated by Jennifer Ikeda, who has quite an extensive resume for narration. She narrates the entire trilogy. I am and still remain a huge fan of this series. Now I'm ready for Shadow of Night.