Q&A with Ana Huang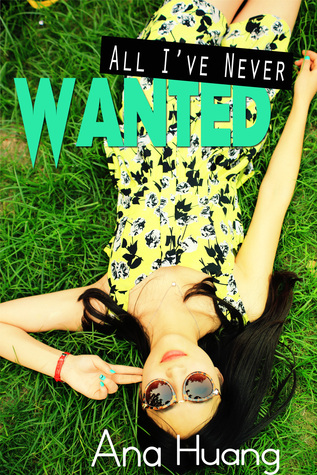 The Scions were the four richest, most powerful guys at Valesca Academy, and they ruled the school with iron fists. Everyone wanted to date them or be them...everyone, that is, except Maya Lindberg, who just wanted to avoid them until she could graduate.
She almost succeeded, until an ill-advised outburst on her part put her right in the Scions' path. Just like that, one became her fake boyfriend, one her unwanted matchmaker, one her guardian angel, and the one she couldn't stand the most? Yeah, he's her new housemate.
A Young Adult romantic comedy that explores what happens when a girl gets everything she never asked for, including a puppy, a new wardrobe, and, possibly, even true love.
1.
All I've Never Wanted
is about a girl who gets things that she never wanted, has anything like this ever happened to you or to someone you know?
I don't know anyone who has gotten things she never wanted at the extent that Maya did. I have had a few unexpected opportunities in my life, but they were all school or work-related...unfortunately, no private jets or yachts for me (yet)!
2. Describe Maya is three words.
Loyal, stubborn, intelligent
3. You started writing All I've Never Wanted when you were sixteen, and you had a
story published when you were in fourth grade. It seems as if you were born writing. What inspired you to write at a young age?
It's actually an ironic story. When I first started school, I didn't speak English that we only spoke Chinese in my household. To improve my English, I started reading a lot, which was how I fell in love with books. Eventually, all the great stories I read inspired me to start writing my own, and, well, the rest is history, as they say.
4. What are you working on next?
Right now, I am working on re-writing If We Ever Meet Again for publication. It was also posted on Wattpad, but I am actually re-writing it, as opposed to just some minor editing and tweaks like I did with All I've Never Wanted. If We Ever Meet Again is a college study abroad romance and it's loosely based on my own study abroad experiences when I was an undergraduate. I wrote it when I was older, so it's a little more mature than my other stories, and I'm hoping to get it traditionally published or I might just self-publish again. I haven't decided yet!
5. What was the title of the last book you read?
Rowdy by Jay Crownover. I've been on a New Adult spree lately so I'm loving her Marked Men series at the moment.