Review: The Mystery Writers of America Wickedly Good Meals and Desserts to Die For.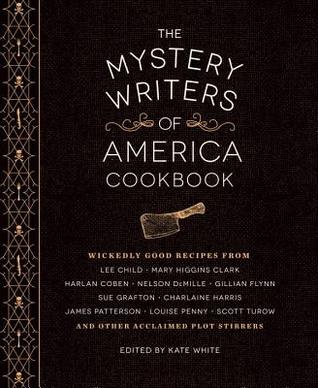 Title: The Mystery Writers of America Wickedly Good Meals And Desserts to Die For
Author: Edited by Kate White
Publisher: Quirk Books
Published: March 2, 2015
Hardcover, 176 pages
ISBN: 9781594747571
Genre: Cookbook
Source: Publisher
Summary:
Hard-boiled breakfasts, thrilling entrees, cozy desserts, and more--this illustrated cookbook features more than 100 recipes from legendary mystery authors. Whether you're planning a sinister dinner party or whipping up some comfort food perfect for a day of writing, you'll find plenty to savor in this cunning collection. Full-color photography is featured throughout, along with mischievous sidebars revealing the links between food and foul play. Contributors include Lee Child, Mary Higgins Clark, Harlan Coben, Nelson DeMille, Gillian Flynn, Sue Grafton, Charlaine Harris, James Patterson, Louise Penny, Scott Turow, and many more.
My Thoughts:
The Mystery Writers of America Wickedly Good Meals And Desserts to Die For is a cookbook that everyone is going to want in their kitchen. This cookbook, edited by Kate White, is broken down in the usual manner: Breakfast, Appetizers, Soups and Salads, Entrees, Side Dishes, Desserts, and Cocktails. What's fascinating about this book is that all the recipes are from fantastic mystery writers. Over one hundred to be exact. The first recipe I came across--rum soaked Nutella French toast--told me this was a cookbook that a novice like me could master.
Each recipe is proceeded by a little history as to why the author chose to include it in this cookbook. This aspect gives it a personal touch that every reader can appreciate. White also includes a homage to departed authors such as Agatha Christie and P.D. James, as well as some fascinating facts on the art of murder and food. I also can't fail to mention the delicious photos taken of some of the recipes finished results. They will make you want to lick the page--but don't. It's just paper.
If you buy one cookbook this year,
The Mystery Writers of America Wickedly Good Meals And Desserts to Die
For
should be it!
The awesome people at Quirk Books have given me leave to share one of the recipes from the book with you. Be prepared to drool!
JAMES PATTERSON
Grandma's Killer Chocolate Cake
Here's one "killer" Alex Cross always loves to catch—Grandma's Killer Cake! A special family recipe dating from the 1940s, this decadent cake seems to get better with age; it is tastier on day two. And you need to be a good detective around the house after it has been made, sitting there in its glass-domed cake stand, staring back at you with deadly temptation, because a piece seems to mysteriously disappear every time I go into the kitchen. Not to be caught red-handed, so looms the "Killer Cake Killer"!
YIELD: 1 SINGLE- LAYER 9-BY-12 INCH CAKE OR 1 DOUBLE LAYER 9-INCH CAKE
1

1

⁄3 teaspoons baking soda dissolved in

2

⁄ 5 cup hot water
3

1

⁄2 squares bitter chocolate, melted gently
1 teaspoon vanilla extract
3 squares bitter chocolate
2

⁄3 cup milk
1 teaspoon vanilla extract
1 teaspoon almond extract
1.

Preheat oven to 350°F. Cream butter and sugar together. Add eggs. 

2.

Blend in flour and buttermilk in alternating additions, starting and ending with the flour. Add baking soda mixture, followed by chocolate and vanilla extract. 

3.

Pour batter into one 9-by-12-inch pan or two round 9-inch springform pans. Bake for 30 minutes, or until a toothpick inserted into the center comes out clean. Remove from oven and let cool. 

4.

Combine all frosting ingredients in a saucepan, bring to a full boil, and boil for 2 minutes. Let cool. You can put saucepan on ice if necessary to cool quickly. 

5.

Remove the cake from the pan, frost, and serve. 

James Patterson has sold 300 million books worldwide, including the Alex Cross, Michael Bennett, Women's Murder Club, Maximum Ride, and Middle School series. He supports getting kids reading through scholarship, Book Bucks programs, book donations, and his website, readkiddoread.com. He lives in Palm Beach with his wife, Sue, and his son, Jack.
Excerpted from The Mystery Writers of America Cookbook edited by Kate White. Reprinted with permission from Quirk Books.