The good and bad points of being an author by Carolyn Aspenson and a #giveaway
Every job has good points and bad points. Risks, dangers, concerns, frustrations…they're all a part of every job, whether we realize it or not. Writing and editing both come with risks, dangers, concerns and frustrations, too.

Who knew? I sure didn't. I thought writing and editing would be an easy, stress-free gig, but I was wrong. Of course there's the obvious risks one takes when they decide to write a book.
Will the books I edit sell?
Let me tell you, that stuff is nothing compared to the real risks, dangers, et all of being a writer and an editor. I fell into this rabbit hole in 2011, full time, and I'm still trying to crawl my way out.
Don't get me wrong, I love what I do and I don't think I'll ever stop. It's not about the writing, or the editing. Those two things are great. It's about what happens because I'm a writer and an editor. Here's my list of the top five things I've had to deal with since taking on this new career.
1.
My eyesight tanked.
Staring at a computer practically 24/7 is rough on the eyes. I've had 20/20 vision since birth and at 44, the words on the screen shrunk and danced around, making it virtually impossible for me to do anything with them. Certain I was going blind, I headed to the eye doc who gave me a prescription for (insert gasp here) TRI-FOCALS. My parents had horrible vision but never got the third level on their coke-bottle-sized glasses, but me? Yup. I'm a triple focal gal now. And for the record, the words are still blurry.
2.
My body is bumped and bruised.
Writers see everything. Every detail of every person, building, speck on the sidewalk; we see it all. Not because we've reached some higher level of consciousness—though that might be true for some—but because we're nosy and constantly thinking, 'can I use that in a book?' Watching everything going on around me makes me clumsy. Since I'm not paying attention to what I'm doing, I'm usually walking into stuff, all of the time. I'd take photos of the rainbow colors dotted along my legs and arms, but I'm embarrassed. No, really, they're hideous!
3.
I can't read for enjoyment anymore.
Every book I pick up becomes and editing job in my head. Every 'looked', every 'started to', every editors no-no bursts from the pages (or the Kindle app) and assaults my eyes. Thank God for Audible.com. Without audio books, I'd never get to enjoy the stories of my favorite authors again.
4.
Everyone wants me to read their manuscript.
Let's face it, if someone says, "I'm a published writer and an editor for several publishers," those who have always wanted to be published want said person to 'take a look at what I've written and tell me if it's good.' It makes me want to bang my head against a wall! It's not that their writing is bad, or that they can't write. It's number three, above. I'm happy to help anyone who wants to move forward with their story, of course, but when someone wants me to read their whole book, that means I have less time to read for enjoyment (or, listen for enjoyment that is,) and less time to edit and write, which is money lost. And honestly, if they want an opinion, they should hire an editor, whether that editor is me or someone else. I read books as a job, and it's hard to tell someone that when they don't want to shell out the bucks for the editing. It makes me appear mean and I don't like being mean, let alone looking mean.
5.
I don't dream about Ryan Reynolds anymore.
Darn it. Seriously, have you had a dream about Ryan Reynolds? If not, I'm really sorry. If so, then you might get my issue. Now that I'm reading and writing 24/7, the characters I read about, I dream about. Do I want to dream about the cop that saves boys from the devil? Not so much, actually. Unless that cop comes in the form of Ryan Reynolds, I don't much want him in my dreams. Ryan hasn't made an appearance in a long time. In fact, his friends, Daniel Craig and Steve Perry (the younger, long-haired version) haven't dropped in, either. All I've got is an over weight cop and a teenage girl who likes mermaids. Seriously?
Career changes are tough for everyone. All jobs come with risks, some more than others. Is mine harder, more dangerous than a fireman? Of course not—but oh, if you've written a story about a fireman, send it my way. I could use a dream with that kind of character.
Booktrope Editions and Amazon Encore author Carolyn Ridder Aspenson is the Amazon and Barnes & Noble best selling author of the Angela Panther Mystery Series, Unfinished Business An Angela Panther Novel, Unbreakable Bonds An Angela Panther Mystery, and Uncharted Territory An Angela Panther Mystery, The Inn At Laurel Creek, a contemporary romance novella, Santa's Gift, a Cumming Christmas Novella and 8 To Lose The Weight, a healthy living guide.
When not writing, Carolyn spends her time editing fiction and non-fiction manuscripts for Booktrope Editions as well as on a freelance basis, and providing freelance content to various print and online publications.
Carolyn lives in Atlanta, GA with her husband and children.
For more information, visit
carolynridderaspenson.com
Pinterest: Carolyn Ridder Aspenson
Instagram: carolynridderaspenson
Purchase at Amazon
Giveaway
The first five people who sign up for Carolyn Aspenson's newsletter will receive the
an ebook copies of
all three of Angela Panther books
! Giveaway is open internationally. You must be at least 13 years old to enter.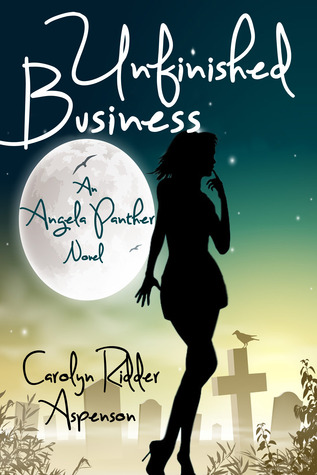 In UNFINISHED BUSINESS AN ANGELA PANTHER NOVEL, #1 AMAZON bestselling author Carolyn Ridder Aspenson introduces her now trademark blend of witty dialog and hilarious banter in the first book of her hilarious and heartwarming paranormal chick lit, cozy mystery, Angela Panther series.

When Angela Panther's mother Fran Richter wakes her up in the middle of the night ranting about stolen Hershey Bars, Angela thinks her mother's got a screw loose. And then it hits her. Her mother is dead. Just a few hours before, Angela watched as the funeral home staff nearly dropped her mother's body off the gurney while sliding her into the hearse. So maybe she's the one that's nuttier than a fruitcake?

But Fran keeps popping in and with a volcano full of drama already brewing at home—crazy or not—Angela's grateful for her mother's presence.

It's the other ghosts Angela can do without.

Seems Fran's return opened a portal between Angela and the other side and ghosts are hitting up the reluctant psychic medium for help. From the naked British guy juggling balls in the coffee shop parking lot to the woman desperately trying to save her sick child, Angela must find a way to balance her own life with the unfinished business of the dead.
Reluctant psychic Angela Panther never wanted to talk to the dead, but the moment she decides it's not so bad, tragedy strikes, and her new gift disappears. When best friend Mel suspects her husband is cheating, she turns to Angela for advice. They concoct the perfect trap, but to make it work, they'll need help from Angela's mother, Fran. There's just one tiny little problem... Fran's dead. With Angela's psychic radar on the fritz, can the dead find a way to help the living?
#
1 AMAZON bestselling author Carolyn Ridder Aspenson is back with the third Angela Panther novel, a hilarious and heartwarming paranormal cozy mystery adventure: Uncharted Territory.
Just when psychic medium Angela Panther thinks she's got her gift figured out, the universe smacks her in the head with a curve ball.
When an unidentified fourteen-year-old boy takes a dive off an interstate overpass, Atlanta Detective Aaron Banner asks Angela to find out if it was suicide—or murder. But the young boy's spirit has other plans for her: help another lost soul and forget about him.
Fortunately, Angela's never been good at taking orders.
With the help of her dead-but-not-gone mother, Fran, and her newly single best friend, Mel, Angela sets out to discover the truth about both the jumper and the girl he wants to help.
And boy, is she out of her league.
Armed with little more than their double lattes and a tiny pink bottle of wannabe pepper spray, Angela and Mel must venture into the dark underbelly of Atlanta to solve two mysteries. Will they be able to help the dead finally rest in peace?