Review: The Lemoncholy Life of Annie Aster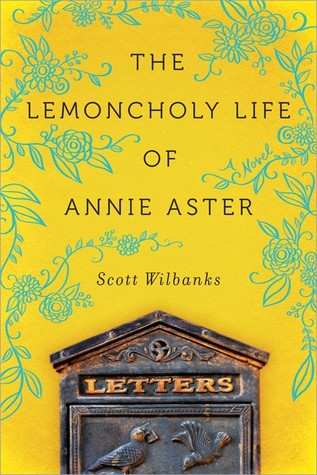 Title:
The Lemoncholy Life of Annie Aster
Author:
Scott Wilbanks
Publisher: Sourcebooks Landmark
Published: August 4, 2015
Paperback, ARC
ISBN: 978-1-4926-1246-9
Genre: Science Fiction
Source: Publisher

Summary:


Annabelle Aster doesn't bow to convention—not even that of space and time—which makes the 1890s Kansas wheat field that has appeared in her modern-day San Francisco garden easy to accept. Even more peculiar is Elsbeth, the truculent schoolmarm who sends Annie letters through the mysterious brass mailbox perched on the picket fence that now divides their two worlds.

Annie and Elsbeth's search for an explanation to the hiccup in the universe linking their homes leads to an unsettling discovery—and potential disaster for both of them. Together they must solve the mystery of what connects them before one of them is convicted of a murder that has yet to happen…and yet somehow already did.
My Thoughts:
This novel is described as "The physics-bending charm of The Time Traveler's Wife meets the curious mischief of The Eyre Affair and the unconventional and utterly enchanting debut novel . . ."

To be honest, I have never heard of the word Lemoncholy before I picked up this book by Scott Wilbanks. And I'm not exactly sure what it means, though I think I have an idea after reading The Lemoncholy Life of Annie Lester. There is so much I want to say about this book. However, I can't say too much without being spoilery. Part of the charm of this book is finding things out on your own.
Annie Lester is the main character of this book. She's a bit peculiar. Has a few secrets. But she's actually very charming and unique. Her best friend, Christian, is a bit of a mystery too. And then Edmund joins in with the two, and another mystery pops up, but that's not as big of a mystery as why in 1995 San Francisco Annie can walk through her back door into 1885 Kansas. There's a mailbox where she exchanges letters with her neighbor from the past, an antique door, and an illusionist. Separated by time and distance, together they uncover a mystery that could save a life. Plot-wise I really don't want to say more than that; you'll have to find out the rest on your own. And trust me you'll want to.
This is Scott Wilbanks debut novel and it's pretty good. Once I started reading I didn't want to put the book down. And if he wanted to write a sequel to this book, I would surely read it. The plot was so interesting and it kept me guessing as to what would happen next. I also liked the characters and the mysteries they brought to the story as well. However the ending still left me with a few questions. I read an advanced copy, so maybe the details are resolved in the finished product. But overall, this is a great read you should add to your to-read pile.
Don't forget to check out Scott's guest post about his writing process.
My Rating: