Check out my TBR list for September
*Not pictured--Library of Souls by Ransom Riggs
New Year's Eve. A time for resolutions. A chance to make a change. And for thirty-year-old Molly Sullivan, a night that will transform her life forever…

All it takes is one word—yes or no—to decide Molly's future. As the clock counts down to midnight and the ball slowly begins to drop, Molly's picture-perfect boyfriend gets down on one knee and asks her to marry him. She knows she should say yes, especially considering the baby-sized surprise she just discovered she's carrying. But something in her heart is telling her to say no…

Now, Molly's future can follow two very different paths: one where she stays with her baby's father, despite her misgivings and his family's unreasonable expectations, and one where she ventures out on her own as a single mother, embracing all the hardships that come with it.

And by the time the next New Year is rung in, Molly will know which choice was right—following her head or listening to her heart…
The epic conclusion to the best-selling series!
Time is running out for the Peculiar Children. With a dangerous madman on the loose and their beloved Miss Peregrine still in danger, Jacob Portman and Emma Bloom are forced to stage the most daring of rescue missions. They'll travel through a war-torn landscape, meet new allies, and face greater dangers than ever. . . . Will Jacob come into his own as the hero his fellow Peculiars know him to be? This action-packed adventure features more than 50 all-new Peculiar photographs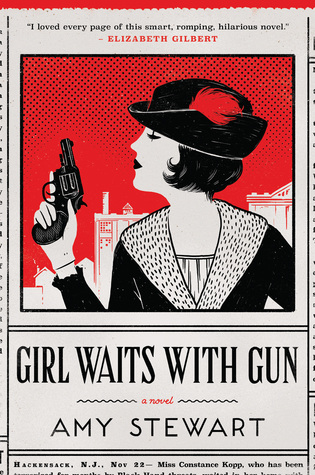 From the New York Times best-selling author of The Drunken Botanist comes an enthralling novel based on the forgotten true story of one of the nation's first female deputy sheriffs.
Constance Kopp doesn't quite fit the mold. She towers over most men, has no interest in marriage or domestic affairs, and has been isolated from the world since a family secret sent her and her sisters into hiding fifteen years ago. One day a belligerent and powerful silk factory owner runs down their buggy, and a dispute over damages turns into a war of bricks, bullets, and threats as he unleashes his gang on their family farm. When the sheriff enlists her help in convicting the men, Constance is forced to confront her past and defend her family — and she does it in a way that few women of 1914 would have dared.
*Currently Reading
London, 1887. As the city prepares to celebrate Queen Victoria's golden jubilee, Veronica Speedwell is marking a milestone of her own. After burying her spinster aunt, the orphaned Veronica is free to resume her world travels in pursuit of scientific inquiry—and the occasional romantic dalliance. As familiar with hunting butterflies as she is fending off admirers, Veronica wields her butterfly net and a sharpened hatpin with equal aplomb, and with her last connection to England now gone, she intends to embark upon the journey of a lifetime.

But fate has other plans, as Veronica discovers when she thwarts her own abduction with the help of an enigmatic German baron with ties to her mysterious past. Promising to reveal in time what he knows of the plot against her, the baron offers her temporary sanctuary in the care of his friend Stoker—a reclusive natural historian as intriguing as he is bad-tempered. But before the baron can deliver on his tantalizing vow to reveal the secrets he has concealed for decades, he is found murdered. Suddenly Veronica and Stoker are forced to go on the run from an elusive assailant, wary partners in search of the villainous truth.
Kaaren Christopherson's brilliantly observed novel captures the glamour and grit of one of the world's most dazzling cities during one of its most tumultuous eras--as seen through the eyes of a singularly captivating heroine...
In 1890s New York, beautiful, wealthy Francesca Lund is an intriguing prospect for worthy suitors and fortune hunters alike. Recently orphaned, she copes by working with the poor in the city's settlement movement. But a young woman of means can't shun society for long, and Francesca's long-standing acquaintance with dashing Edmund Tracey eventually leads to engagement. Yet her sheltered upbringing doesn't blind her to the indiscretions of the well-to-do...
Among the fashionable circle that gathers around her there are mistresses, scandals, and gentlemen of ruthless ambition. And there is Connor O'Casey--an entirely new kind of New Yorker. A self-made millionaire of Irish stock, Connor wants more than riches. He wants to create a legacy in the form of a luxury Madison Avenue hotel--and he wants Francesca by his side as he does it. In a quest that will take her from impeccable Manhattan salons to the wild Canadian Rockies, Francesca must choose not only between two vastly different men, but between convention and her own emerging self-reliance.
Birmingham, Alabama is infested with malevolence. Prejudice and hatred have consumed the minds and hearts of its populace. A murderer, unimaginatively named "Harry the Hacker" by the press, has been carving up citizens with a hatchet. And from the church known as Chapelwood, an unholy gospel is being spread by a sect that worships dark gods from beyond the heavens.
This darkness calls to Lizzie Borden. It is reminiscent of an evil she had dared hoped was extinguished. The parishioners of Chapelwood plan to sacrifice a young woman to summon beings never meant to share reality with humanity. An apocalypse will follow in their wake which will scorch the earth of all life.
Unless she stops it…
London, 1885—a challenging place for a young, beautiful woman of limited means. But Eliza is modern before her time. She longs for more than the stifling, if respectable, conventionality of marriage, children, domestic drudgery. Through her work as an artist's model, she meets the magnetic and irascible Devil Wix—a born showman whose dream is to run his own theatre company.
Devil's right-hand man isCarlo Bonomi, an ill-tempered dwarf who is a talented magician and illusionist. Carlo and Devil clash at every turn and it falls to Eliza to broker an uneasy peace between them. Jasper Button, a mild-mannered family man at heart, is a gifted artist and the unlikely final member of the motley crew. With self-styled impresario Devil at the helm of the Palmyra Theatre, acrobats and illusionists astonish audiences with their death-defying stunts and the magic of mysterious new inventions—like electricity. Backstage, secret romances, box-office dramas, and power struggles inevitably simmer, and intermittently boil over.
The year is 1910: Eliza's life has been utterly transformed since she dove head-first into the bohemian world of the Palmyra Theatre, becoming first a stage player and, since her marriage to impresario Devil Wix, a canny woman of business. She is now the mother of growing children, and in her family life as well as at the theatre she must face the challenges of a new century. The First World War changes the world forever, and the fortunes of the Wix family change with it. Eliza's daughter, Nancy, must find a way to keep the Palmyra afloat, and to entertain audiences who have lost husbands and sons in the conflict. Nancy is a born performer, but she is set apart—even from her beloved brothers—by her psychic gifts. She learns that she must harness her troubling powers, under the tutelage of the mysterious Mr. Feather, to keep the family and the theatre intact. It is a dangerous path and a lonely one, but Nancy's bold choices lead her to love, and beyond that to the recognition of what it takes to become a modern woman. As another war begins to threaten the world, she is forced into a final, fateful confrontation with her demons, and must marshal both her ingenuity and her mysterious talents to fight for the survival of friendship, independence and family.
What's on your September reading list?