Pre-order Deals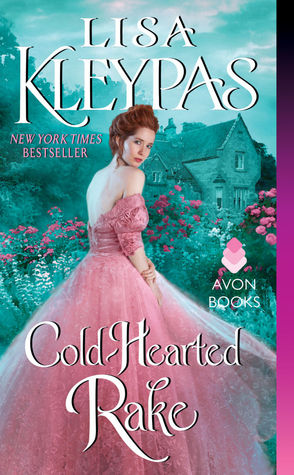 L
isa Kleypas's much anticipated return to historical romance, COLD-HEARTED RAKE, goes on sale next week. From now until 10 a.m. PT 10/27 (on sale day!), Village Books in Bellingham, WA is offering readers all over the country a chance to order a signed and personalized copy of the book! Lisa will sign and the books will be mailed out next week! If you would like to order a signed copy of COLD-HEARTED RAKE, you can place your order here: http://www.villagebooks.com/lisa-kleypas-preorder.
Avon Books October 27, 2015 –
ISBN 9780062371812
– $7.99 – E-ISBN 9780062371836 –
$6.99
COLD-HEARTED RAKE is classic Kleypas with a rakish hero, an indomitable heroine, and cast of charming side characters. Set in the late Victorian era, the book explores the intricacies of the changing economic system in England, as landowners continually strived to innovate and expand their sources of income, through the lens of a recently titled earl thrown into the aristrocracy with a failing estate and his relative's sisters and captivating widow to care for. Readers have clamored for more historical romance from Kleypas, and after five years of waiting, they will not be disappointed.
Devon Ravenel, London's most wickedly charming rake, has just inherited an earldom. But his powerful new rank in society comes with unwanted responsibilities . . . and more than a few surprises. His estate is saddled with debt, and the late earl's three innocent sisters are still occupying the house . . . along with Kathleen, Lady Trenear, a beautiful young widow whose sharp wit and determination are a match for Devon's own.

Kathleen knows better than to trust a ruthless scoundrel like Devon. But the fiery attraction between them is impossible to deny-and from the first moment Devon holds her in his arms, he vows to do whatever it takes to possess her. As Kathleen finds herself yielding to his skillfully erotic seduction, only one question remains:

Can she keep from surrendering her heart to the most dangerous man she's ever known?
Jay Crownover's Marked Men have all found their perfect matches…or have they? When Rule and Rome's brother Remy died, he left behind not only his family and his best friend Shaw, he also left behind Lando, the man he loved. Now, finally, Lando will have the happily ever after he so richly deserves in the e-novella LEVELED, on sale from William Morrrow Impulse November 2nd, but available at the special pre-order price of $1.99!
With the surprise release of LEVELED, readers will get a look back at their beloved Marked Men, but will also get a peek at characters from Jay's upcoming series, Saints of Denver, along with a chapter of BUILT (on sale from William Morrow Paperbacks January 5, 2016). This novella will only be available for pre-order for two weeks, at the special price of $1.99. Once it goes on sale, readers will be able to download Lando's HEA for $2.99.
We all need a hero...let the Saints of Denver begin.
Orlando Frederick knows what it is to be leveled by pain. Instead of focusing on his own, he's made it his mission to help others: sports stars, wounded war vets, survivors of all kinds. But when Dom, a rugged, damaged, sinfully attractive cop makes his way into Lando's physical therapy practice, he might be the biggest challenge yet. Lando loved one stubborn man before and barely survived the fallout. He's not sure if he can do it again.
Dominic Voss is a protector. The police badge he wears is not only his job, it's his identity, so when he's sidelined because of an injury, the only thing he cares about is getting back on the force. He expects Lando to mend his body, he just doesn't realize the trainer will also have him working towards a hell of a lot more. As attraction simmers and flares, Dom sees that Lando needs repair of his own...if only the man will let him close enough to mend what's broken.