November's New Books on the Block
Come and check out what's new in the world of books you might not know about. You might find you next great read here. If you're interested in having your book featured in December's New Books on the Block, then click here to fill out the form.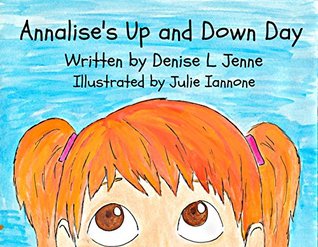 Annalise's Up and Down Day
by
Denise L. Jenne
This is the story of one day in the life of three-year-old Annalise. It follows her, through her daily activities, adventures and misadventures on one summer day, as she explores the meaning of "up" and "down" in her world.
We Never Left You
by
Beth Olsen and Rick Olsen
After unspeakable tragedy, one couple must forge its own path to healing in the bittersweet true story, We Never Left You.
One moment, Beth and Rick Olsen were enjoying an ordinary life filled with all the joys and frustrations of raising their two children, Josh and Jessie. The next moment, a drunk driver plowed through a red light at eighty miles per hour, hitting their van and changing everything.
The death of both their children launched Beth and Rick down a long and winding path toward simple survival—and eventual healing. As shock gave way to the cruel reality of their loss, they began receiving messages that proved the existence of life after death—a welcome sign that aided them in moving forward.
The Olsens soon attempted traditional healing methods but quickly found that counseling did nothing to help them get a grasp on their monumental loss. They then turned to nontraditional approaches—a decision that led them to Peru. It was there they finally began to undergo the immense physical, mental, and emotional changes that allowed them to understand everything—including the accident—happens for a reason.
The Damnable Legacy
by
G. Elizabeth Kretchmer
Lynn Van Swol still regrets the decision she made thirty years ago to place her daughter for adoption so she could climb the highest mountains of the world. Frankie Rizzoni is the troubled biological granddaughter Lynn has never known. And Beth Mahoney is a minister's wife with terminal cancer and the only one who knows the relationship between the two. She designs a plan upon her deathbed to bring Lynn and Frankie together, but now, narrating from the afterlife, she must helplessly watch as her legacy threatens to unravel. The Damnable Legacy of A Minister's Wife is a story about both love and survival, exploring the importance of attachment, place, and faith, and asking how far we should go to achieve our goals-and at what cost.
Next Stop: Nina
by
Robin Raven
Nina never was one who felt comfortable in this world. As she struggles to cope with the pain of her present and past, the young girl's life is changed through the beauty of art. When Nina grows up and winds up in over her head in a dark place, she finds herself somehow transported to another time when nothing is quite what it seems. She must fight the horrors of her past all over again. Along the way, she faces greater challenges than she imagined. This is a character-driven novel with a heroine who faces life, love, and overcoming suicidal depression on her own terms.