Red: The True Story of Red Riding Hood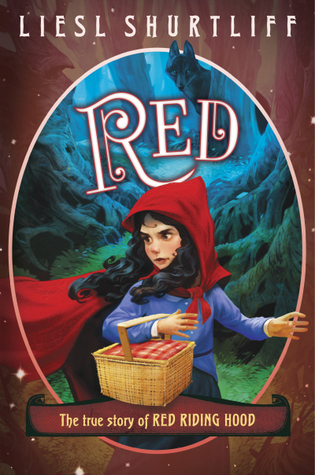 Title:
Red: The True Story of Red Riding Hood
Author:
Liesl Shrutliff
Publisher: Alfred A. Knopf
Published: April 12, 2016
Paperback, ARC
ISBN: 9780385755832
Genre: Fiction, Middle Grade, Fantasy
Source: Publisher
Summary:
Red is not afraid of the big bad wolf. She's not afraid of anything . . . except magic.
But when Red's granny falls ill, it seems that only magic can save her, and fearless Red is forced to confront her one weakness.

With the help of a blond, porridge-sampling nuisance called Goldie, Red goes on a quest to cure Granny. Her journey takes her through dwarves' caverns to a haunted well and a beast's castle. All the while, Red and Goldie are followed by a wolf and a huntsman—two mortal enemies who seek the girls' help to defeat each other. And one of them just might have the magical solution Red is looking for. . . .


About The Author:
Liesl Shurtliff's first book, Rump, won over kids and critics alike, earning an IRA Award, a Texas Bluebonnet nomination, a Whitney nomination, and a starred review from Kirkus, proclaiming it "as good as gold."
In RED, Liesl Shurtliff is at her best. New York Times bestselling author of Escape from Mr. Lemoncello's Library Chris Grabenstein raves that "Liesl Shurtliff has truly out-magicked herself.Red is the most wonder-filled fairy tale of them all." RED will capture the hearts of readers who like it Grimm, as well as followers of ABC's TV show Once Upon a Time.
Oh, reader, what big teeth you have! The better to devour RED: THE TRUE STORY OF RED RIDING HOOD.
My Thoughts:
Liesl Shurtliff has the perfect name for writing fairy tales. It's as if her parents knew what she would be when she grew up and named her accordingly. Parents don't always get it right, for example, there's a woman running for office in my town and her name is Twinkle. Clearly her parents thought she'd be a stripper. But in any case there's something magical about Liesl Shurtliff's name and it translates into her books.
I've had the misfortune to not yet read her previous books Rump and Jack, but I count myself lucky not to have missed Red: The True Story of Red Riding Hood. Red is a coming-of-age story based on the story by Charles Perrault and Little Red Cap by the Grimm Brothers. However Shurtliff's version is quite different and well worth the read. So if you think you know Red's story, you're in for a surprise.
In this new adaptation, Red is no ordinary little girl. She's beloved by her grandmother, who is known as a witch. Red possesses the same talent as her grandmother, but a childhood accident has left her afraid of it. She tries to suppress her natural talents by not using magic. However, when her grandmother is taken ill, Red must find her courage and embrace her magic in order to save her grandmother. Along the way she faces danger, makes unlikely friends, and learns a thing or two about herself.
This book was a delight to read. I adore reading fairy tales and variations of fairy tales. There's something magical about them that speak to my inner child. I was impressed by the depth and history of this book as well. I fully intend to track down Rump and Jack and devour them just as I did this book. I'm so thrilled to have been given the chance to read this book and discover a new-to-me author.
Monday, February 1st –
Bookiemoji
, Author Guest Post
Thursday, February 4th –
BookHounds
, Author Interview