Inspiration for the Duke of Harland in HOW THE DUKE WAS WON
It's important for fiction writers to be able to visualize their characters. At least that's what I tell my husband when he side-eyes me while I stare at pics of hot guys on google. A romance writer needs her inspiration, now doesn't she? When I was writing my debut novel I knew I wanted a dark, brooding hero. Also I knew I wanted him to have a beard. But I can hear you saying "No, Lenora. You can't do that! It's the Regency, yo!" Yeah, I know, I know. But dear reader, I GAVE HIM THAT BEARD! At least for a few pages. In the second chapter his valet shaves it off
J
Anyway, I have a thing for bearded guys. And my latest obsession is Michiel Huisman. I've been stalking him following his career since I discovered him on the fabulous show Orphan Black. He's the inspiration for James, Duke of Harland, the bad boy pirate duke hero of HOW THE DUKE WAS WON. I've spent countless hours googling him. For research purposes, of course!
And here's why…
Mmhhh. Bearded. Brooding. Broad shoulders. Smoldering eyes.
He brings ladies flowers. Because if he doesn't their dragons will incinerate him. No, just kidding. He's the alpha male with the heart of gold. He's the bad boy hottie who you don't even introduce to your friends...yet. Because you want to keep him all for yourself. Preferably in your bed. For weeks
J
And ladies? He READS!
And he plays guitar!!!
So there you have it. The smoldering, bearded inspiration for my very first historical romance hero. I'm so excited to be debuting with Avon! It's such a dream come true. Hope to meet you all soon!
xxoo,
Lenora
But…wait, I hear you say. Is that all? Seriously? The shirt stays on? What kind of crap is that?
OK, OK. Here you go.
You're welcome.
HOW THE DUKE WAS WON, by Lenora Bell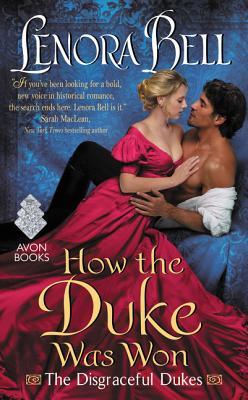 ABOUT HOW THE DUKE WAS WON:
The pleasure of your company is requested at Warbury Park. Four lovely ladies will arrive… but only one can become a duchess.
James, the scandalously uncivilized Duke of Harland, requires a bride with a spotless reputation for a strictly business arrangement. Lust is prohibited and love is out of the question.
Four ladies. Three days. What could go wrong?
She is not like the others…
Charlene Beckett, the unacknowledged daughter of an earl and a courtesan, has just been offered a life-altering fortune to pose as her half-sister, Lady Dorothea, and win the duke's proposal. All she must do is:
* Be the perfect English rose [Ha!]
* Breathe, smile, and curtsy in impossibly tight gowns [blast Lady Dorothea's sylph-like figure]
* Charm and seduce a wild duke [without appearing to try]
* Keep said duke far, far from her heart [no matter how tempting]
When secrets are revealed and passion overwhelms, James must decide if the last lady he should want is really everything he needs. And Charlene must decide if the promise of a new life is worth risking everything . . . including her heart.