Review: Stars Over Sunset Boulevard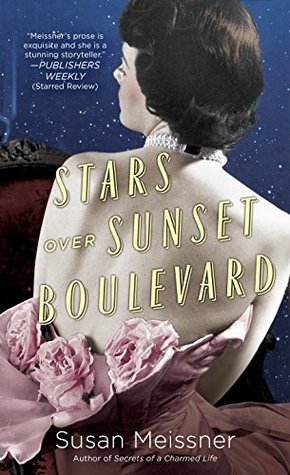 Title:
Stars Over Sunset Boulevard
Author:
Susan Meissner
Publisher NAL
Published: January 5, 2016
Paperback, 385 pages
ISBN: 9780451475992
Genre: Historical Fiction
Source: Publisher
Summary:
Los Angeles, Present Day. When an iconic hat worn by Scarlett O'Hara in Gone With the Wind ends up in Christine McAllister's vintage clothing boutique by mistake, her efforts to return it to its owner take her on a journey more enchanting than any classic movie…

Los Angeles, 1938. Violet Mayfield sets out to reinvent herself in Hollywood after her dream of becoming a wife and mother falls apart, and lands a job on the film-set of Gone With the Wind. There, she meets enigmatic Audrey Duvall, a once-rising film star who is now a fellow secretary. Audrey's zest for life and their adventures together among Hollywood's glitterati enthrall Violet…until each woman's deepest desires collide. What Audrey and Violet are willing to risk, for themselves and for each other, to ensure their own happy endings will shape their friendship, and their lives, far into the future.
My Thoughts:
In the style of her previous novels,
Secrets of a Charmed Life
and
A Fall of Marigolds
, Susan Meissner merges the past and the present with the flare that keeps readers wanting more.
Stars Over Sunset Boulevard
centers around one of Hollywood's most glamorous pictures:
Gone With the Wind
. Along glitz and glamour there's also mystery, romance, and the bonds of friendship.
When a hat from the epic movie
Gone With the Wind
winds up in a boutique, the owner goes on a quest to find its owner. In the process, we learn about the two main characters of the book--Violet and Audrey--and how the hat came into their possession. Two women who are dissimilar yet also the same, and who want so desperately to find their place in the world. They also resemble the characters Scarlet and Melanie from the movie. Their stories are just as epic as the motion picture they both work on.
Stars Over Sunset Boulevard
is a must read. The story is told from dual points of view of Audrey and Violet. You learn of their pasts, their secrets, and what led them to be where they are. You can't help falling in love with these characters and wishing for the best. You feel their heartaches and disappointments. Their joys and triumphs. If you're a fan of the movie
Gone With the Wind
, this is a book you'll want to add to your tbr list. I thoroughly enjoyed this book, and it's one that I highly recommend.
Rating: