Rebecca Maizel's Top Ten Favorite Things About Summer
Top ten favorite summer activities of favorite things about summer. This is absolutely in no particular order.
1. BOOOOOOOOKS! Yay!!! This is, by far, my favorite activity. I am a teacher as well as an author so my academic year is so busy! This summer, I am embarking on The Summer of 100 Books challenge. I made it up so you can join in if you want. The 100 also includes ten picture books (because I love picture books and so, so many good ones have come out recently). I read two graphic novels yesterday, Smile by Raina Telgemeier and That One Summer by Mariko Tamaki. So I've only got 98 more to go by Sept 7 (when school starts again).
2. The beach. One of the best parts about living in Rhode Island are our incredible beaches. 3rd beach in Narragansett, East Beach, and Roger Wheeler Beach are amazing. I can stay for hours reading, eating, and if it's not FREEZING – swim!
3. Dels. Okay so it's weird and I will include some images with this post. Because the thing about being from Rhode Island is not just the geographical/landscape beauty, etc., but the food. Rhode Islanders are super proud of their food. We have hot wieners, Italian food to die for, Johnny Cakes, coffee milk, and Awful Awfuls. But nothing quite tops DELS. Nothing beats the frozen lemonade treat after you've been on the beach for hours and head home at the end of an amazing day.
4. Providence Water Fire. I swear this isn't a ploy for Rhode Island tourism, but this state comes to life during the summer. Basically the city of Providence, lights up the rivers with bonfires. Gondolas ride down the river and there are street performers, street food, food trucks, and they blast incredible music and it's a great city & state activity. You gotta go to at least two a year.
5. Chatham, Cape Cod. Every year I go to Chatham and stay for a few weeks on the Cape. I've done so since I was born so anyone who has read my last book, Between Us & The Moon, knows how important Chatham and the cape is to me! So the next few will be Cape Cod focused.
6. The Yellow Umbrella in Chatham, Ma. By far, my favorite bookstore on the cape. They have an incredible amount of used and new books and I spend too much time in this store! I also usually have a book signing there every summer, so if you're on the Cape this summer in July, come check it out!
7. Nauset Beach. One of the best beaches in the universe. Actually any beach on the Cape from Chatham onward will blow your mind. One of the best places on Earth. There is always a seal sighting (maybe some Great Whites too).
8. Very closely connected to Nauset Beach is its fried food haven, Liam's. Oh Liam's, how I love thee. How I love your fried onions, fried fish, and chocolate shakes. How I love running all of these miles in the winter and spring so I may eat 372138918 fried clams. That reminds me, I also need a new Liam's sweatshirt.
9. Kayaking. In the last 5 years or so I've really come to love kayaking here in Rhode Island. I usually go to the kayak center in Wickford, Rhode Island and kayak all around in that area. I don't own a kayak but it's fun to paddle around. It's ironic because I HATE huge boats, but I do like an ocean kayak.
10. Barbecues. My brother-in-law makes some crazy good barbecue sauces and rubs. I always buy him ingredients and kits around Christmas time but it's selfish because I really want him to make me excellent food during the summer time. It's also just a good excuse for me to see my nephew & niece and to spend time with my family.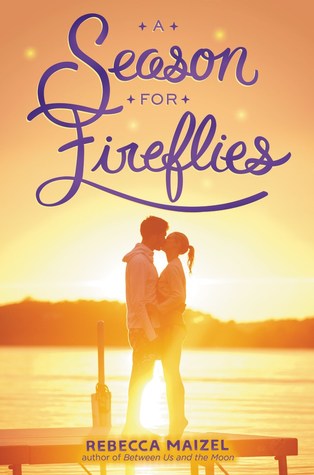 June 28, 2016; Hardcover $17.99; ISBN: 978-0-0623-2764-2; HarperTeen
A story of second chances from the author of Between Us and the Moon, which Kirkus Reviews called "what first love is meant to be."
A year ago, Penny Berne was the star of her high school's theater department, surrounded by a group of misfit friends and falling in love for the first time. Now her old friends won't talk to her, her new best friend is the most popular girl in school, and her first love, Wes, ignores her. Penny is revered and hated. Then, in a flash, a near-fatal lightning strike leaves Penny with no memory of the past year—or how she went from drama nerd to queen bee.
As a record number of fireflies light up her town and her life, Penny realizes she may be able to make things right again—and that even if she can't change the past, she can learn to see the magic where she never could before.
This captivating new novel about first love, second chances, and the power of memory is perfect for fans of Lauren Oliver's
Before I Fall
and Katie Cotugno's
How to Love
.