Giveaway: A Little Knowledge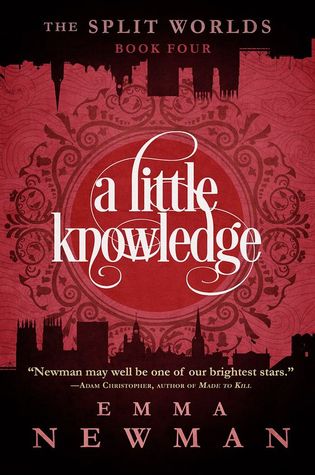 PRAISE FOR EMMA NEWMAN'S SPLIT WORLDS SERIES
"Emma Newman is an extraordinary new voice in SF/F."
— Paul Cornell, Hugo Award-winning author of London Falling and Saucer Country
"Newman brings an intriguing mix of modern world, Victorian/Regency England, and faery in her Split Words series, and this third volume brings

a

strong resolution to the conflicts between the worlds established in the first two volumes."
— Locus magazine
"Emma Newman has built

a

modern fantasy world with such élan and authority her ideas of why and how the seemingly irrational world of Fairy works should be stolen by every other writer in the field. Her characters are complex and troubled, courageous at times and foolhardy. This book of wonders is first rate."
—Bill Willingham, Eisner Award winner and creator of Fables
"Emma Newman has created

a

reflection of Bath that reminds one that charming is not safe. Between Two Thorns shows the darkness beneath the glamour of the social season. Learning to be

a

young lady has never seemed so dangerous."
— Mary Robinette Kowal, Hugo Award winner, and author of Shades of Milk and Honey and Glamour in Glass
"If you like

a

bit of fairy magic, the juxtaposition between ancient and modern here and there...you'll really enjoy it. 10/10."
— Fantasy Faction
Cathy and Will are now the Duchess and Duke, rulers of Londinium, the biggest city in the Fae-touched Nether, but they have different ideas of what their authority offers. While Will is bullied by his family and his patron, Lord Iris, to maintain total control and have
a
child with his wife, Cathy wants to muscle the Court through 200 years of social change and free them from their old-fashioned, Victorian moral strictures. Despite their differences and the machinations of their enemies, the power couple maintain their marital harmony— until one of them takes
a
step that is simply too far.
ABOUT THE AUTHOR:
Emma Newman
writes dark short stories as well as science fiction and urban fantasy novels. She won the British Fantasy Society Best Short Story Award 2015 and
Between Two Thorns
, the first book in Emma's Split Worlds urban fantasy series, was shortlisted for the BFS Best Novel and Best Newcomer 2014 awards. Emma is an audiobook narrator and also co-writes and hosts the Hugo-nominated podcast 'Tea and Jeopardy' which involved tea, cake, mild peril, and singing chickens. Her hobbies include dressmaking and playing RPGs. Visit her at
www.enewman.co.uk
or @EmApocalyptic.
Thanks to Diversion Books I have a copy to give away to a lucky reader. Even though this is the fourth book in the series, you should be able to follow along if you haven't read the first three books. This giveaway is for US addresses only. You must be at least 13 years old to enter.
Please read our giveaway policy before entering.