3 Fun Halloween Books That You Can Read Anytime!
Halloween Hijinks - A Zoe Donovan Mystery
By: Kathi Daley
Amid the backdrop of zombies on the run and Halloween festivities, animal control officer Zoe Donovan is faced w loosing something she loves to save someone she loves when she finds a dead body in the basement of a haunted house just two days before Halloween. With the help of her best friends, Levi and Ellie, and her dog Charlie, she delves into a mystery as complex and multilayered as the feelings for her ex-nemesis Zac Zimmerman.
Halloween Hijinks is a perfect recipe, combining holiday fun and a touch of humor, a pinch of romance, and a dollop of murder.
Zoe's Treasure Hunt: Zoe and Charlie et a mysterious stranger at the hospital while doing therapy rounds. The man is in town searching for a seventy year old treasure. When he is unable to continue the journey into the past himself, Zoe and Charlie take over with the help of Poppy and a few of his friends.
My thoughts:
This is the first book in the series " A Zoe Donovan Mystery". I read the seventeenth book first, so I decided to go back to the beginning because I wanted to know the history of the characters.
Again, I completely enjoyed the fast pace and the interaction the characters. The likes, the dislikes and the friction that occur between them.
Zoe is a strong and determined young woman, who was raised by her father after being abandoned by her mother at a young age. Her flaws are real. Her love for her friends are obvious in her actions nd her loyalty to them.
Kathi Daley has sculptured her characters perfectly. From start to finish, this book has everything a reader would want. I can't wait to read the next adventure.
Double Jinx: A Bellissimo Casino Crime Caper short story
July Jackson's job as a Holiday Host at the Bellissimo Resort and Casino in Biloxi, Mississippi, is more trick than treat when one of her scary rich slot tournament players croak. Then 3,000,000 dollars goes missing. And a couple dressed as condiments he's mustard, she's ketchup-- might be behind the spooky shenanigans. What's a Holiday Host supposed to do? Call in the flying monkeys? July turns to the highest level of security and meets a boy named Baylor -- just Baylor. From there it's all thrills and chills.
My thoughts:
Although this is a short story, it is jammed packed full of mystery. If you have a few hours to spare, you won't be disappointed.
Gretchen Archer brings her characters to life from the very beginning and keeps the pace running to the very end.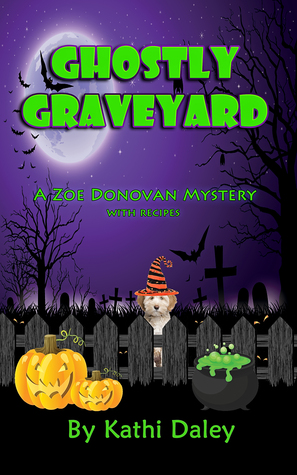 Ghostly Graveyard
A Zoe Donovan Mystery
by Kathi Daley
When Zoe finds a body lying across the grave of the man behind a hundred year old legend, she sets out to find the killer before the deputy, who is substituting for Salinger, finds a way to pin the murder on her. Meanwhile, Ellie is asked to babysit her cousins baby, love is AWOL, and the entire Donovan-Zimmerman household is busy with Halloween activities.
My thoughts:
I really liked this book. it was book seventeen in this series, so I was a little lost with the character's relationships. It didn't take me long to sort things out. Zoe's life is full with committees, foster kids, an animal rescue hospital and a husband. She finds time to be an amateur sleuth. This is a fast read with plenty of twists and turns. It really kept me guessing as to who was the murderer during the Halloween haunted hamlet activities.
This is a new author for me I enjoyed this book and look forward to reading more of her work.