The Queen Release Day Blitz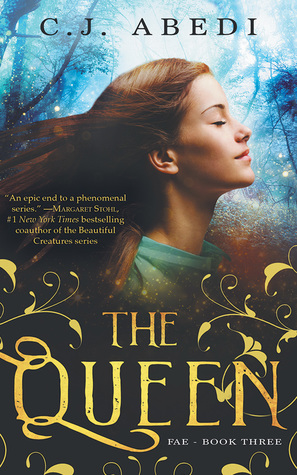 THE QUEEN
Book 3 of The Fae Trilogy
Diversion Trade Paperback Original
$16.99 | 284 pages
ISBN: 978-1626818453
On Sale: December 6, 2016
"An epic end to a phenomenal series."
—Margaret Stohl, #1 New York Times Bestselling Co-Author of Beautiful Creatures
"If you loved the Twilight series, you will love this book...Sooo good!!!"
—Guiliana Rancic, E! News anchor and star of Giuliana & Bill
In the stunning conclusion to the Fae trilogy, Caroline and Devilyn fight to preserve their love despite dark forces threatening to tear them apart.
As Caroline struggles to accept her rightful place as Queen of the Light Fae, her relationship with Devilyn, son of the Dark King, seems not only doomed, but dangerous. They know their connection is undeniable, but for others, their love is an insidious threat.
Trapped in a plot concocted by the Dark King Alderon and his evil associate, Puck, Caroline must search her history and develop her own powers in order to survive. And as Devilyn's father appeals to the Dark inside his son, Caroline fears Devilyn will succumb to those Dark instincts before they can defeat Alderon.
Weaving together narratives from Caroline and Devilyn's pasts as well as their present, The Queen finishes the fight between Light and Dark. Will Caroline and Devilyn's love outlast the war? And will Caroline live to rule as the Queen of the Light?
BUY THE BOOK:
ABOUT THE AUTHORS
Colet Abedi has been an entertainment industry executive for over ten years. She is best known for her work as head writer for the telenovela serials American Heiress and Fashion House on MyNetworkTV. Colet currently has a series in television syndication, Unsealed: Alien Files and has completed Five Souls, her first feature film. She is also the author of the romance novel, Mad Love. Colet is a native of California, graduated with a B.A. in English literature from the University of California at Irvine, and currently lives in Los Angeles with her husband and three dogs.
Jasmine Abedi
is an entertainment attorney and has worked with entertainment powerhouses such as Fox, NBCUniversal, ABC, MTV, and E! She also has Executive Producer credits for the program
Posh Tots
and the pilots
Club Bounce
(TruTV),
Divas
(VH-1), and
Life With The Clarks
(CMT). Jasmine co-created the natural cosmetic company Generation Klean, Inc. Their products can be found online at
www.generationklean.com
and at a major retailers nationwide. Jasmine currently lives with her husband and daughter, Ella, in California.