Feature: Shiver Hitch by Linda Greenlaw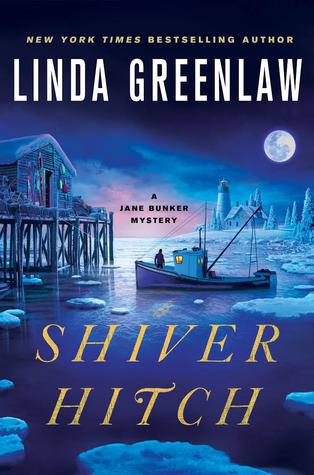 You may know Linda Greenlaw as the real life inspiration for the ship captain depicted in The Perfect Storm. She now writes mysteries with the same dexterity and flair as she captains a ship, making it a pleasure to step into her protagonist's world.
On June 6, Minotaur Books published SHIVER HITCH, the third installment of Greenlaw's acclaimed mystery series featuring detective Jane Bunker.
Jane thought she'd escaped the pollution, noise, and dead bodies of the big city when she left her job as a Miami homicide detective and moved back to the idyllic town of Green Haven, Maine. But through her work as a marine insurance investigator, it appears she's left behind the bustle of the city, but not the murder. When Jane is called to the remote Acadia Island to assess the damages from a house fire, she also finds a badly burned body in the charred rubble, and it turns out that the victim is the owner of the house, a wealthy woman who just happens to be one of the most hated women in town. As Jane investigates further, she becomes embroiled in a plot as thick as New England clam chowder, which involves convicted felons, a real estate scam, and the deep conflicts between the locals and the summer folks.
Praise for Linda Greenlaw
"Greenlaw's experience as a Maine-based lobster-boat captain brings verisimilitude to her descriptions of the people, the landscape, and most of all the wild offshore weather, all neatly rolled into a mystery with plenty of suspects." —Kirkus Reviews on Shiver Hitch
"The author's experience as a lobster-boat captain is apparent in her vivid descriptions of nor'easters and in her portrayals of the quirky residents of Maine's rural areas. An entertaining series, strong on setting."
—
Booklist
on Shiver Hitch
"In her second outing (after
Slip Knot
), ex-Miami detective-turned-Maine insurance investigator Jane Bunker checks out the vandalized equipment of a company insured by her employer. This leads her to an abandoned boat and a corpse. Jane's culture shock and career adjustment are brilliantly portrayed.
"
—Library Journal on Fisherman's Bend
"Jane's the best thing to happen to water since Travis McGee." —Kirkus Reviews on Fisherman's Bend
"Greenlaw proves that she's as skillful a mystery writer as she is a fishing boat captain—and that's saying a lot. A fantastic read!" —Sebastian Junger on SlipKnot

"Greenlaw, author of nonfiction bestsellers such as The Lobster Chronicles, has no trouble finding her sea legs in... this swiftly paced yarn." —Entertainment Weekly on SlipKnot

"A sleepy Maine town, the local drunk found dead, a detective asking too many questions... No, not Murder, She Wrote—it's [Greenlaw's] first foray into mystery, and it's riveting." —People on SlipKnot



* This post contains affiliate links, which means that if you click on one of the product links, I'll receive a small percentage. It's actually really sad. I couldn't even buy a cup of coffee with what I made from my earnings last year.