Review: A Treacherous Curse by Deanna Raybourn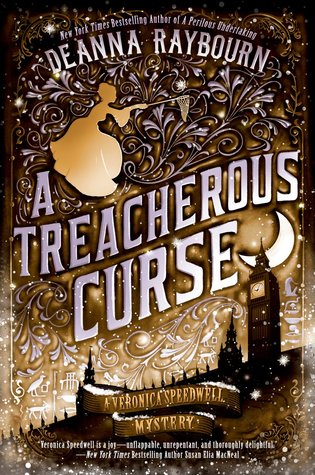 London, 1888.

As colorful and unfettered as the butterflies she collects, Victorian adventuress Veronica Speedwell can't resist the allure of an exotic mystery—particularly one involving her enigmatic colleague, Stoker. His former expedition partner has vanished from an archaeological dig with a priceless diadem unearthed from the newly discovered tomb of an Egyptian princess. This disappearance is just the latest in a string of unfortunate events that have plagued the controversial expedition, and rumors abound that the curse of the vengeful princess has been unleashed as the shadowy figure of Anubis himself stalks the streets of London.

But the perils of an ancient curse are not the only challenges Veronica must face as sordid details and malevolent enemies emerge from Stoker's past. Caught in a tangle of conspiracies and threats—and thrust into the public eye by an enterprising new foe—Veronica must separate facts from fantasy to unravel a web of duplicity that threatens to cost Stoker everything. . . .


My Thoughts
I fell in love with this Veronica Speedwell after just the first few pages of A Curious Beginning. But before that, I fell in love with Deanna Raybourn's writing style and her spunky characters in the Lady Julia Grey novels. Raybourn crafts her characters as a painter would paint. Adding layers upon layers until perfection is achieved. Each book in this series just gets better and better.
I read, and loved, the first two books in this series: A Curious Beginning and A Perilous Undertaking. And so, when the opportunity to read and review the third book came along, A Treacherous Curse, I jumped at it. And I wasn't disappointed!
Veronica Speedwell and Stoker are once again drawn into a mystery when Stoker's ex-wife's new husband comes up missing. Stoker's name has been drug through the mud once before, and he has no desire to repeat the experience. After all, his reputation has only begun to recover. However, the investigation is more complicated than they thought when an Egyptian curse comes in the play. Not to mention someone wants them dead--again. What else is new?
Just like the previous two novels, I gobbled this one up. When I wasn't reading it, I was thinking about it. I love the chemistry between Veronica and Stoker. They have fire between them. I also love how they're fiercely protective over each other. The plot is very engaging. I had no idea who was behind he whole thing until the characters laid it out at my feet.
This book is for people who love historical fiction, but love their heroines independent and full of individuality. If you've not read the books before, I think you should start with A Curious Beginning. After all, you wouldn't want to miss a single minute of Veronica Speedwell.
Deanna Raybourn is the New York Times bestselling author of the award-winning Lady Julia Grey series, the Veronica Speedwell series and several standalone novels. She lives in Virginia with her family.