Audiobook review: Holding by Graham Norton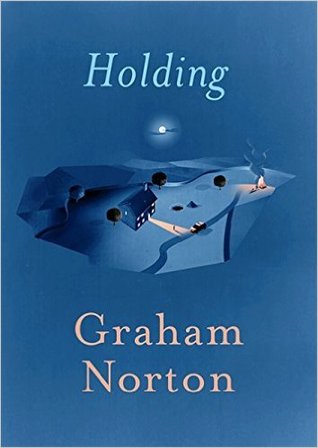 Holding by Graham Norton
Published October 6th 2016 by Hodder & Stoughton
Hardcover, 320 pages | 9781444792003 |
Length: 7 hrs and 26 mins | Simon & Schuster Audio
Summary
The remote Irish village of Duneen has known little drama, and yet its inhabitants are troubled: Sergeant P.J. Collins hasn't always been this overweight; Brid Riordan, a mother of two, hasn't always been an alcoholic; and elegant Evelyn Ross hasn't always felt that her life was a total waste.
So when human remains—suspected to be those of Tommy Burke, a former lover of both Brid and Evelyn—are discovered on an old farm, the village's dark past begins to unravel. As a frustrated P.J. struggles to solve a genuine case for the first time in his professional life, he unearths a community's worth of anger and resentments, secrets and regrets.
Darkly comic, at times profoundly sad, and "especially inviting because of its tongue-in-cheek wit" (Kirkus Reviews), Holding is a masterful debut. Graham Norton employs his acerbic humor to breathe life into a host of lovable characters, and explore—with searing honesty—the complexities and contradictions that make us human.
My Thoughts
Graham Norton has been in movies, is an awesome television host, and has written a few nonfiction books. He's accomplished a lot in his career and now he can add kick-ass novelist to his resume. After reading the summary of Holding, I was intrigued but also a little trepidatious. Because while I like him as a television personality, I couldn't help but wonder if I would feel the same way about his debut novel.
I decided audio was the way to go with this book. Graham Norton not only has a pleasant voice, he also has a very animated voice. I thought he would be a great narrator. And I was right. His Irish accent transported me to the heart of Duneen where this small little town came to life through his words.
Holding takes place in Duneen, Ireland. It's a small village where not much happens. That is, until human remains are discovered. And with this discovery, secrets that the residents have been holding on to for some time begin to find their way out of the dark. The story centers around a few of Duneen's residents: Sergeant P.J. Collins, Brid Riordan, and Evelyn Ross. Each character has their part to play in this spellbinding mystery as well as a juicy secrets of their own.
I don't want to give too much of the plot away, and it is well-plotted, because finding out the details as Norton unravels them is half the fun. I think Holding would have impressed the Queen of Mystery, Agatha Christie. It had the small town charm, the troubled but interesting characters, and, well, the a dead body. Though PJ isn't quite up there with Periot or Miss Marple, he's still an endearing character.
I enjoyed listening to this story, and I think you will too. I also learned that Graham Norton has another mystery coming out this year: A Keeper. I hope he narrates this book as well!