Review: Prince in Disguise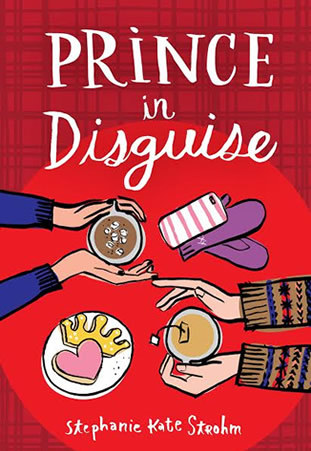 Hyperion | Ages 12-18 | 320 pages
9781484768174
Summary
Someday I want to live in a place where I never hear "You're Dusty's sister?" ever again.
Life is real enough for Dylan—especially as the ordinary younger sister of Dusty, former Miss Mississippi and the most perfect, popular girl in Tupelo. But when Dusty wins the hand of the handsome Scottish laird-to-be Ronan on the TRC television network's crown jewel, Prince in Disguise, Dylan has to face a different kind of reality: reality TV.
As the camera crew whisks them off to Scotland to film the lead-up to the wedding, camera-shy Dylan is front and center as Dusty's maid of honor. The producers are full of surprises—including old family secrets, long-lost relatives, and a hostile future mother-in-law who thinks Dusty and Dylan's family isn't good enough for her only son. At least there's Jamie, an adorably bookish groomsman who might just be the perfect antidote to all Dylan's stress . . . if she just can keep TRC from turning her into the next reality show sensation.
My Thoughts
It was a windy, drizzly, miserable Saturday. The kind of Saturday where I don't change our of my PJ's if I can help it. We had nowhere to be. Nothing to do. I ate breakfast and then I picked up Prince in Disguise. It was my intention to read only a few chapters. That's every bookworm's story, isn't it? Anyway, several hours flew by and I was still glued to the pages. Before I knew it, I had finished the book. I regret nothing.
Prince in Disguise is recommended for kids ages 12-18. C.S. Lewis said, "A children's story that can only be enjoyed by children is not a good children's story in the slightest." And I believe this book is exactly the kind of book he is referring to. I couldn't help falling in love with the characters. Dusty and Dylan are sisters. Dusty is older and is filming for the reality television series, Prince in Disguise. Dusty gets engaged to the prince (well, he's actually not a prince but a laird) and is preparing for their upcoming nuptials in Scotland.
Dylan is less than thrilled to be heading off to Scotland for her sister's wedding. She loves watching television, but hates being on television. She feels awkward and out of place in her family. However, Scotland starts looking like the exact place she wants to be after meeting Jamie, a member of the wedding party and all-around charming guy. From the moment they met, sparks fly between these two kids. He's the perfect distraction she needs from the drama the television crew tries to create. He's also adorably bookish.
Pop culture references, literary references, trap doors, hidden rooms, family secrets, romantic dream dates, Scotland--this book has it all. Dylan and Jamie will have you believing in happily-ever-after. And if they made this book into a movie, I'd probably watch it over and over again until the dvd broke from overuse. Prince in Disguise is a fun rom-com that will have you begging for a sequel. Read it. Love it. And then hit me up on twitter so we can talk about it.