Review: Conan Doyle for the Defense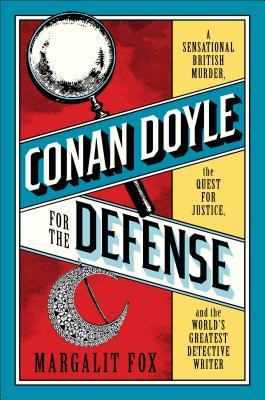 Conan Doyle for the Defense
by Margalit Fox
Hardcover, 344 pages
Published June 26th 2018 by Random House
9780399589454
Summary
Arthur and George meets The Suspicions of Mr Whicher: how the creator of Sherlock Holmes overturned one of the great miscarriages of justice.
Just before Christmas 1908, Marion Gilchrist, a wealthy 82-year-old spinster, was found bludgeoned to death in her Glasgow home. A valuable diamond brooch was missing, and police soon fastened on a suspect - Oscar Slater, a Jewish immigrant who was rumoured to have a disreputable character. Slater had an alibi, but was nonetheless convicted and sentenced to death, later commuted to life imprisonment in the notorious Peterhead Prison.
Seventeen years later, a convict called William Gordon was released from Peterhead. Concealed in a false tooth was a message, addressed to the only man Slater thought could help him - Arthur Conan Doyle. Always a champion of the downtrodden, Conan Doyle turned his formidable talents to freeing Slater, deploying a forensic mind worthy of Sherlock Holmes.
Drawing from original sources including Oscar Slater's prison letters, this is Margalit Fox's vivid and compelling account of one of the greatest miscarriages of justice in Scottish history.
My Thoughts
I was vaguely aware that Sir Arthur Conan Doyle was, at times, consulted to solve crimes before I read Conan Doyle for the Defense by Margalit Fox. I watched the series Arthur & George (2015) a few years ago that introduced me to this aspect of Doyle, which I knew nothing about. So, when this book crossed my path, I was more than eager to read it. After all, it checked off several of my interest boxes: true crime, history, one of the greatest mystery writers of all time (according to my subjective opinion).
I was immediately blown away by the way that Margalit Fox laid out the story for the readers. Its narrative read as well as any good fiction book, only everything in the book really happened. If you're looking for a book strictly about Doyle, you will be disappointed. Though, I did walk away from this book with a better understanding of the author. This book is mainly about Oscar Slater, who was accused of a crime he didn't commit, jailed, and the author who pleaded for his case to be overturned.
In 1908, Marion Gilchrist, a wealthy old lady, was murdered in her Glasgow home. A diamond broach was found missing and the police had only one suspect in mind--Oscar Slater. Even though Slater had an alibi, he was still found guilty of the crime. His only 'crime' seemed to be that he was Jewish and had a disreputable character.
After reading about the case, Doyle became obsessed by the great injustice done to this man. He used the methods made famous by Sherlock Holmes to help solve the mystery of what really happened so that Slater could go free. He spent his time talking to witnesses, looking over transcripts, noting the inconsistencies in the police statement (oh yes, you will find many wtf moments when you read it.), and more. It's amazing how the case affected so many aspects of the justice system as well as police procedure when investigating a crime.
The injustice that was done to Oscar Slater is a story that should never be repeated, but sadly it is. The Edwardian anti-immigration, religious, and ethnic bias is still alive and well today. Slater spent many years in prison, hoping that Doyle would be able to help him win his freedom, which he did. And while this story has a happier ending than it could of had, it wasn't without cost.
Conan Doyle for the Defense by Margalit Fox is a fascinating and informative read. I'm grateful for all the time Fox spent in the archives researching this book. Sir Arthur Conan Doyle, like Sherlock Holmes, was an incredible detective. I absolutely recommend this book for your next read!
Sidebar: Arthur & George is really good as well. It's based on the book by the same name, which I haven't read, by Julian Barnes. But I've added it to my wishlist, so maybe one day I'll get to it.
*I received a copy of this book from the publisher for review purposes. This has in no way influenced my opinions.