Audiobook Review: The Widows of Malabar Hill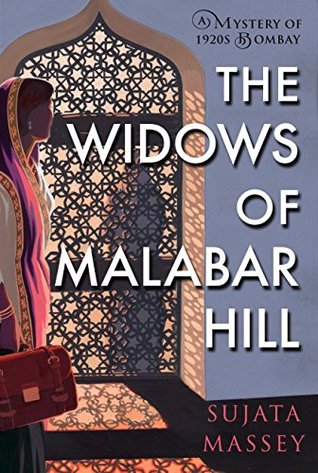 The Widows of Malabar Hill (Perveen Mistry #1)
by Sujata Massey, Narrated by: Soneela Nankani
Kindle Edition, 401 pages.
Length: 14 hrs and 34 mins
Published January 9th 2018 by Soho Crime
B07226BHDG
Summary
1920s India: Perveen Mistry, Bombay's first female lawyer, is investigating a suspicious will on behalf of three Muslim widows living in full purdah when the case takes a turn toward the murderous. The author of the Agatha and Macavity Award-winning Rei Shimura novels brings us an atmospheric new historical mystery with a captivating heroine.
Inspired in part by the woman who made history as India's first female attorney, The Widows of Malabar Hill is a richly wrought story of multicultural 1920s Bombay as well as the debut of a sharp and promising new sleuth.
Perveen Mistry, the daughter of a respected Zoroastrian family, has just joined her father's law firm, becoming one of the first female lawyers in India. Armed with a legal education from Oxford, Perveen also has a tragic personal history that makes women's legal rights especially important to her.
Mistry Law has been appointed to execute the will of Mr. Omar Farid, a wealthy Muslim mill owner who has left three widows behind. But as Perveen examines the paperwork, she notices something strange: all three of the wives have signed over their full inheritance to a charity. What will they live on? Perveen is suspicious, especially since one of the widows has signed her form with an X—meaning she probably couldn't even read the document. The Farid widows live in full purdah—in strict seclusion, never leaving the women's quarters or speaking to any men. Are they being taken advantage of by an unscrupulous guardian? Perveen tries to investigate, and realizes her instincts were correct when tensions escalate to murder. Now it is her responsibility to figure out what really happened on Malabar Hill, and to ensure that no innocent women or children are
in further danger.
My Thoughts
I love historical mysteries, and The Widows of Malabar Hill brought me to a location I haven't really been before. The story takes place in Bombay during the 1920s, with flashbacks in 1912. The main character is Perveen Mistry, Bombay's first female lawyer. Perveen has had to overcome many obstacles to even get her foot in the door, but when she has questions about the paperwork involving the will of a client, she decides she must investigate further.
The client, Omar Farid, was a very wealthy mill owner. He's left three widows behind and Perveen feels they may have been taken advantage of. "The Farid widows live in full purdah—in strict seclusion, never leaving the women's quarters or speaking to any men." It's because of the purdah that makes it impossible for anyone other than Perveen to investigate.
This book fascinated me for so many reasons. I enjoyed learning about the cultural aspects of
The Widows of Malabar Hill,
but was frustrated by the lack of women's rights, as was Perveen. The story was well-paced and well-written. It kept me guessing to the end. I love Perveen, who was inspired a bit by the first female lawyer in India. All the characters are interesting and complex. I can't think of one thing I didn't like about this book. I really hope that
Sujata Massey writes another book starring Perveen and the Mistry family.
I listened to this book on CD as well as read as an ebook. The story was narrated by
Soneela Nankani, who did a fantastic job. Her voice transported me to the time and place of the story. She has numerous audiobook credits under her belt, including a few already in my tbr, which makes me all the more excited to get to them. The CD's, however, were a bit of a disappointment. About halfway through the book, there were a few parts that skipped repeatedly. I couldn't finish one particular disc and was glad I had the ebook, otherwise I might have missed something important to the story. I checked the discs to make sure there weren't any scratches and there wasn't. So I don't know why that happened.
Whether you read The Widows of Malabar Hill or listen to it on audio, you're in for a treat.
Sujata Massey has written a heroine that you'll fall in love with.
*I received the audio CDs from the publisher for review purposes only. This in no way influenced my review. All thoughts and opinions are my own. I purchased the ebook.