Book to Movie Review: Crazy Rich Asians
Rachel Chu is happy to accompany her longtime boyfriend, Nick, to his best friend's wedding in Singapore. She's also surprised to learn that Nick's family is extremely wealthy and he's considered one of the country's most eligible bachelors.
Directed by: Jon M. Chu
Writers: Peter Chiarelli, Adele Lim, and Kevin Kwan
Stars: Constance Wu, Henry Golding, Michelle Yeoh
I had wanted to watch Crazy Rich Asians ever since I first heard it was being made into a movie. Unfortunately, I never made it to the theaters. I did, however, add it to my Netflix queue and waited impatiently until the disk was in my mailbox. At this point you're probably wondering "Who still rents discs from Netflix?" Me. I do. I feel no shame. I'm grateful that I do because Crazy Rich Asians is not yet available on Netflix streaming or Amazon Prime. You can pay to rent it, though.
I've had the movie in my possession for about two weeks, and I've watched it multiple times already. I'm not much for buying movies, but I think I will buy this one. Crazy Rich Asians is a pretty good adaptation of the book. I like that the book goes into more detail about the characters. You learn so much more than you can in the movie. The movie does a good job of giving you enough information in the limited amount of time available. There are still quite a few differences between the book and movie. Again, I understand why they had to do that for the time constraints, and some of the changes I was okay with. Without giving too much away, I liked the changes made to Astrid's story line in the movie.
The director did a great job of bringing this opulent world that Kwan created to the big screen. You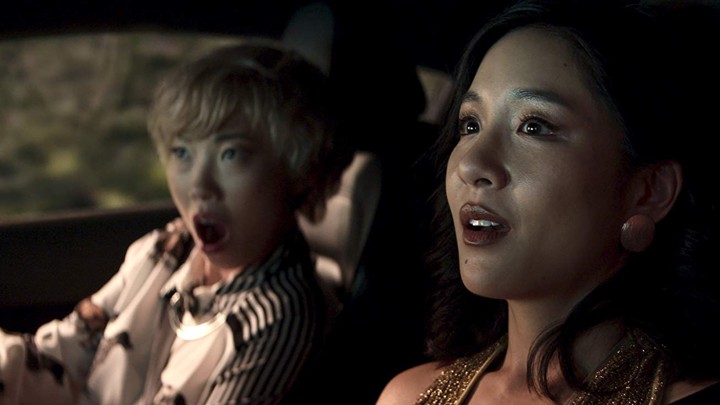 could feel the poshness oozing out of the screen. The actors that play Rachel (Constance Wu) and Nick (Henry Golding) are spot on. My favorite character from the movie is Peik Lin Goh played by Awkwafina. She is hilarious and stole every scene she was in. The whole cast was simply outstanding in bringing Keven Kwan's delightful novel about people who have more money than God. This is a fantastic Cinderella-like, feel good movie. It's a movie that I'll watch again and again.
If you love romance, if you love comedy, then you will love this movie. I can't wait until the sequel, China Rich Girlfriend, comes to theaters. Maybe next year?