Review: Realm by Alexandrea Weis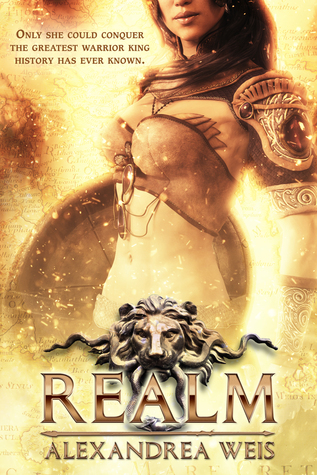 Realm
by Alexandrea Weis
Paperback, 397 pages
Published May 14th 2019 by Vesuvian Books
9781944109486)
Summary
Based on a true story.
When her homeland is conquered by the mighty Alexander the Great, Roxana—the daughter of a mere chieftain—is torn from her simple life and thrown into a world of war and intrigue.
Terrified, the sixteen-year-old girl of renowned beauty is brought before the greatest ruler the world has ever known. Her life is in his hands; her future his to decide.
Without formal education or noble blood, Roxana is chosen by the Greek conqueror to be his bride. Soon she comes to know profound happiness and unyielding desire in her warrior's arms.
However, being the king's consort comes at a heavy price. To survive her husband's treacherous kingdom, she must endure continuous warfare, deadly plots, jealous rivals, victory-hungry generals, and the stigma of being a barbarian. Persian blood will keep her from claiming the grandest title of all—queen—but her reign will seal the fate of an empire.
History tells his story. This is hers.


I received a copy of this book from the publisher in exchange for an honest review. All opinions are my own and are in no way influenced by it.
My Thoughts
Realm by Alexandrea Weis tells the story of Alexander the Great's first wife, Roxana. The story begins after the defeat of Darius III, when Alexander invaded Persia. He fell immediately in love with Roxana, the beautiful daughter of a Bactrian nobleman named Oxyartes, Despite the objections from his generals, he married her. And thus began her marriage to one of history's most famous men.
The price of being the wife of Alexander the Great is high. His kingdom is full of strife, warfare, jealousy, gossip, and plots. Roxana must learn to navigate these tepid waters or drown. With her lady's maid, Morella, Roxana bravely takes on the task at hand and becomes not only a wife to Alexander, but a trusted friend as well.
Not much is known about Roxana. History hasn't recorded much about her. You may find a paragraph here and there, but I imagine she'd have to be a pretty strong woman to deal with all she dealt with. Because of the lack of historical detail, Weis has to fill in the gaps, and there are a lot of them, as to what Roxana's life must have been like.
Realm
is an interesting read. It's full of romance and political intrigue. Some of the dialog felt a bit too modern for this time period. I enjoyed the historical elements including Weis' reference to Achilles/Patroclus being Alexander/Hephaestion. Weis does go into some detail about the comparison, but I would have loved it if she went a little more in depth.
Realm
felt more historical fiction than historical romance, but in the end was a satisfying read.