Review: Stoker's Wilde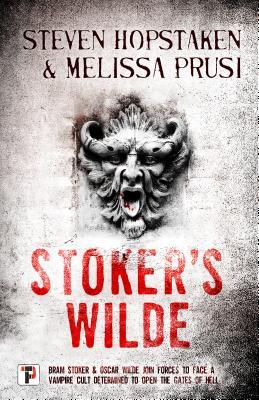 Stoker's Wilde
by Steven Hopstaken, Melissa Prusi
Hardcover, 256 pages
Published May 9th 2019 by Flame Tree Press
9781787581739

I received a copy of this book via NetGalley for review. It has in no way influenced my opinion.
Summary
Years before either becomes a literary legend, Bram Stoker and Oscar Wilde must overcome their disdain for one another to battle the Black Bishop, a mysterious madman wielding supernatural forces to bend the British Empire to his will. With the help of a European vampire expert, a spirited actress and an American businessman, our heroes fight werewolves, vampires and the chains of Victorian morality. The action will take them to dark forests in Ireland, through the upper-class London theater world and culminates in an exciting showdown at Stonehenge, where Bram and Oscar must stop a vampire cult from opening the gates of Hell.
My Thoughts
Where did Bram Stoker get the idea for Dracula? Where did Oscar Wilde get his inspiration for The Picture of Dorian Gray? Both of these classic novels have embedded themselves in our culture since they were created. Perhaps it's the search for immortality that intrigues readers. Or perhaps it's something deeper, something more sinister.
Before Bram Stoker and Oscar Wilde created their literary masterpieces, these two gentlemen were thrown together in an adventure to stop supernatural forces from taking over England and opening the gates of Hell. Stoker and Wilde don't get along well, especially after Stoker steals Wilde's fiance. But they must put aside their differences for the good of all mankind.
Stoker's Wilde is told in the form of epistles, journal entries, and telegrams. I liked this approach to telling the story. Although, a few times, I felt it slowed the pace down a little too much. The authors used facts from Stoker and Wilde and blended them flawlessly with fiction. Steven Hopstaken and Melissa Prusi have written an intriguing twist on two interesting literary superstars.
The characters are based on real people that I don't really know a lot about. It was easy to suspend any belief that I had about them to engross myself in this novel. Besides the occasional pacing problem, I really enjoyed this novel. I felt it was on par with the literary masterpieces of Stoker and Wilde. If you're into Gothic horror, you might want to check out this book.